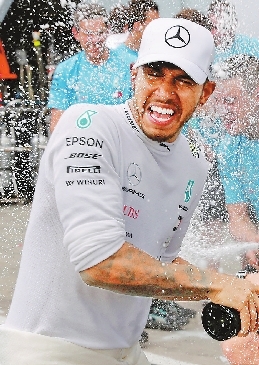 LEWIS HAMILTON won the Italian Grand Prix on Sunday after starting third on the grid to extend his championship lead over Sebastian Vettel following an opening-lap collision with the German driver that effectively ended his chances of victory.
Ferrari had been hopeful of ending an eight-year wait for a win at its home track after taking the front two places on the grid at the Italian GP for the first time since 2000. However, pole-sitter Raikkonen was overtaken by Hamilton eight laps from the end and the Mercedes driver held on, much to the disappointment of the passionate Italian tifosi fans.
"Today was so difficult. Whilst the negativity is never great, that's what powered me along. I actually accept it," Hamilton said after getting roundly booed on the podium.
Hamilton, who said he rated the win as among the top performances of his career, tied Michael Schumacher's record of five Italian GP victories and extended his overall lead to 30 points over Vettel.
"Disappointed but there was nothing I could do," said Raikkonen, who struggled with a tire problem in the final few laps.
Hamilton's teammate Valtteri Bottas was third, ahead of Vettel and Red Bull's Max Verstappen, who received a five-second penalty.
The 33-year-old Hamilton pinpointed the collision with Vettel as the decisive moment of the race.
"That was definitely a very, very key moment, getting past him was the immediate goal ... my race is not really with Kimi, it's with Sebastian. However, I do need to get past Kimi at the same time," Hamilton said.
"Getting past Sebastian at the beginning was clearly a massive turning point. That definitely took a lot of pressure off ... I could just focus on Kimi for the whole race. We had a couple of good battles."
(SD-Agencies)