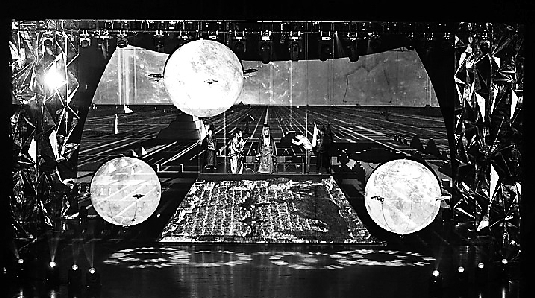 "The Three-Body Problem," a Chinese stage drama based on the first novel of the Chinese sci-fi trilogy "The Three-Body Problem," will hit the stage.
The trilogy, which won the 2015 Hugo Award for Best Novel, tells the story of humans' first successful but frustrating contact with an alien civilization. The trilogy, written by Liu Cixin, was serialized in Science Fiction World magazine in 2006 and then published as a book in 2008.
It received the Chinese Science Fiction Galaxy Award in 2006 and has been hailed by many people from home and abroad. Former U.S. President Barack Obama commented that the scope of the book was immense and that "it was fun to read."
Along with the rollercoaster storyline with swerving ups and downs, the drama utilizes multimedia, holographic projection, gauze projection, 3-D mapping and unmanned aerial vehicles to showcase the magnificent cosmic scenes, bringing audiences on a visual voyage.
In the famous "three suns" scene, audience members see flaring "suns destroying the world," while in another renowned scene in which "nanometer silks cut a ship," special lighting effects serve to propel the storyline, creating stunning visuals before their eyes.
In addition to the special effects, the drama reinforces the personality of the characters to express human connection.
When author Liu watched the drama in 2016, he was stunned by the vivid world on stage. "The play, as I see it, is quite a fantastic chemical reaction of classical stage art and sci-fi and futuristic feelings. The combination of the special effects in a theater might be the best way for science fiction novels to be showcased," he said.
Time: 8 p.m., Oct. 19-20
Tickets: 180-880 yuan
Venue: Nanshan Cultural and Sports Center, 2106 Nanshan Boulevard, Nanshan District (南山区南山大道2106号南山文体中心)
Metro: Line 1 to Taoyuan Station (桃园站), Exit B
(SD News)