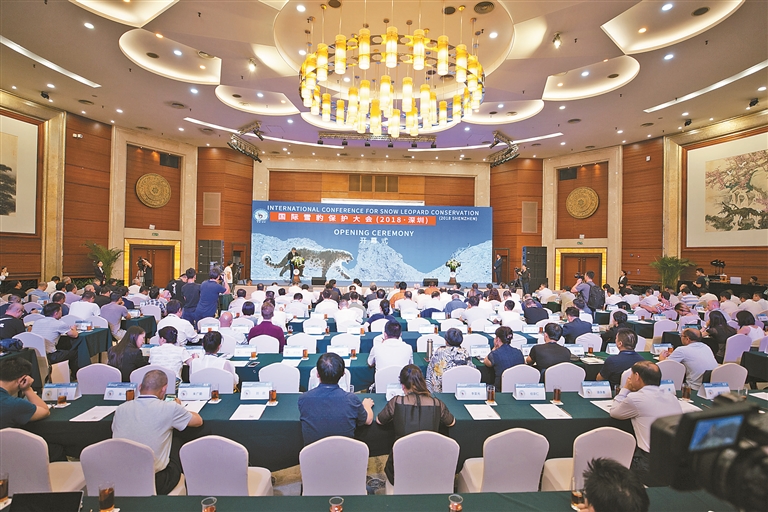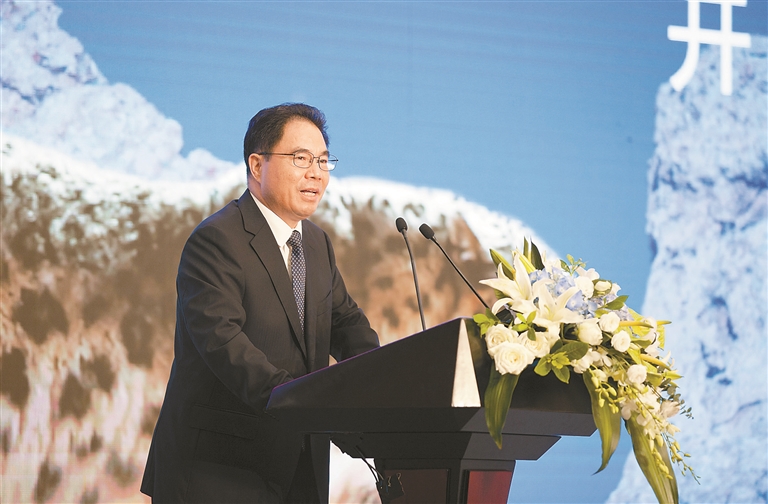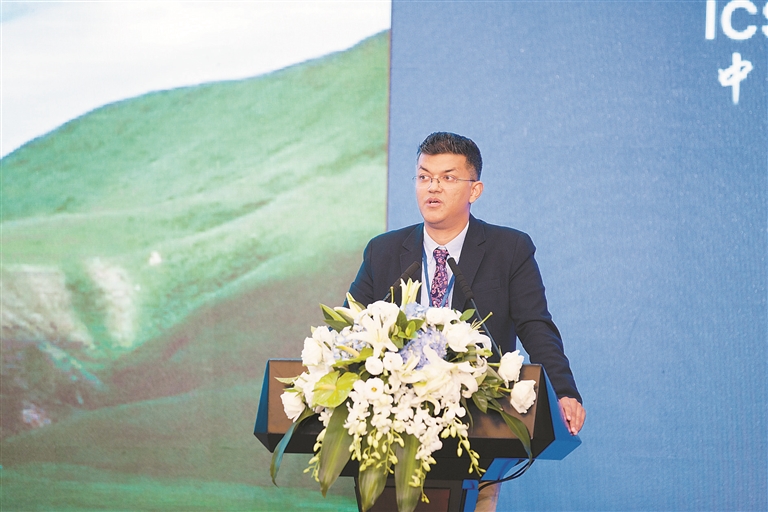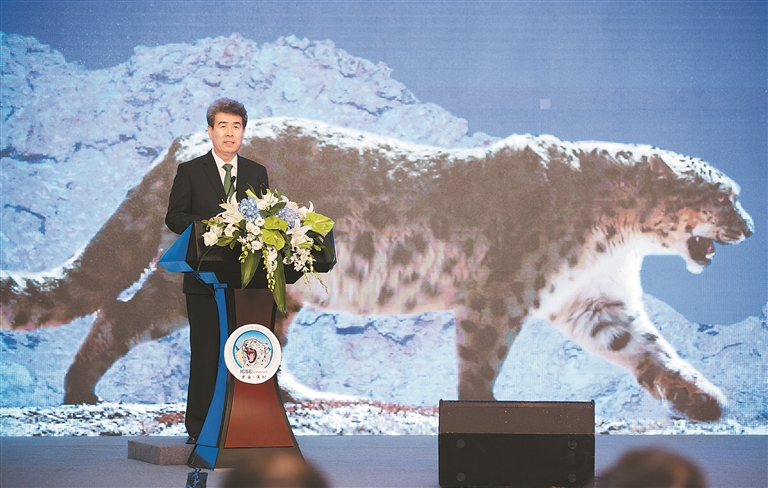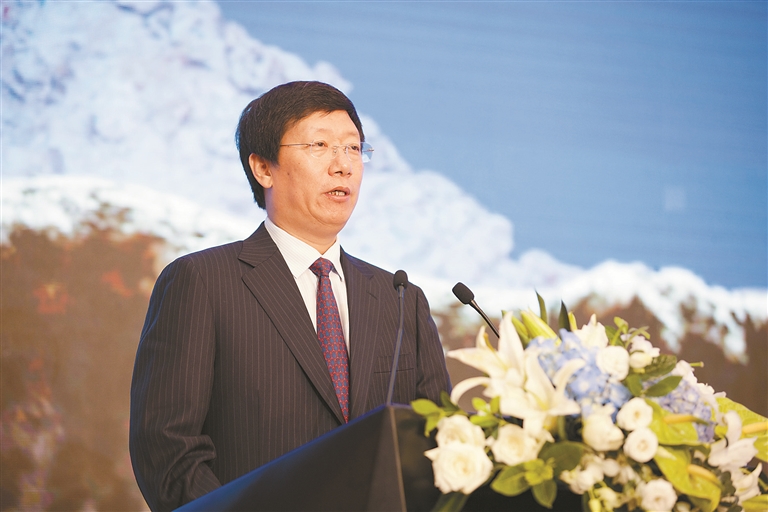 Zhang Qian
zhqcindy@163.com
An international conference focusing on the protection and conservation of the snow leopard opened in Shenzhen yesterday morning, with over 210 government officials, experts, scientists and NGO representatives from 12 snow leopard range countries, including China, India, Russia, Mongolia and Pakistan, in attendance.
The conference will be held through Friday. Major topics around the conservation of the snow leopard in the range countries, as well as other wildlife, will be discussed by the experts at the conference.
The global academic gathering is hosted by the National Forestry and Grassland Administration, National Park Administration, Guangdong Provincial People's Government and China Wildlife Conservation Association.
The global event is organized by the Shenzhen Municipal People's Government, with assistance from Guangdong Provincial Forestry Department, Shenzhen Municipal Forestry Bureau, China Conservation and Research Center for Giant Panda and Beijing Forestry University.
International NGOs, including Global Snow Leopard & Ecosystem Protection Program (GSLEP) and World Wide Fund for Nature (WWF), have provided support in organizing the conference.
Li Chunliang, deputy director of the National Forestry and Grassland Administration and National Park Administration, shared the Chinese Government's efforts and achievements regarding the protection and conservation of the snow leopard, a Class I protected species in China, in recent years.
The snow leopard is also listed as vulnerable on the IUCN Red List of Threatened Species as its global population is estimated to number less than 10,000 mature individuals.
China has the largest habitat area for snow leopards in the world, with an estimated population of 2,000 to 2,500. The nation has tailored and rolled out comprehensive action plans to protect the species, said Li, especially exploring the establishment of more national parks for snow leopards in addition to the 26 conservation zones existing in 2017.
Li also addressed how the Chinese Government has included in the national strategy the building of an ecological civilization and will further cooperate with other snow leopard range countries and international organizations to protect and raise public awareness of the big cats.
Ye Zhenqin, vice governor of Guangdong Provincial People's Government, and Liu Qingsheng, executive vice mayor of Shenzhen, also attended the opening ceremony yesterday and gave speeches to welcome the conference participants from home and abroad.
"Guangdong Province has been attaching great importance to wildlife protection by following the related national laws," said Ye. "Governments of all levels have invited professional institutions to monitor and conduct researches on wildlife, strengthened supervision over wildlife resources and built conservation areas for wild animals."
The province is a rich habitat for 774 wild terrestrial vertebrates and over 8,130 species of wild plants, including many endangered and valuable species, according to Ye.
Although Shenzhen is not a habitat for snow leopards, it shares some responsibility for protecting this valuable species, said Liu at the opening ceremony.
"Shenzhen will actively promote knowledge about snow leopards among residents and cooperate with other international organizations to protect wildlife," said Liu.
"We have been working hard to win the title of the National Forest City for the past three years, and the city's current forest coverage is around 40.68 percent," said Liu.
The city is home to 499 wild terrestrial animals and nearly 2,100 kinds of wild plants, including some very precious species.
Koustubh Sharma, a representative from GSLEP's committee, delivered a speech introducing the progress made by the range countries in protecting snow leopards, underscoring the significance of international cooperation in conservation work.
The large cat is native to the mountain ranges of 12 countries in Central and South Asia (China, Nepal, Bhutan, India, Kazakhstan, Kyrgyzstan, Afghanistan, Mongolia, Pakistan, Russia, Tajikistan and Uzbekistan).
According to Sharma, the snow leopard habitat area in China accounts for more than 60 percent of the world's total. And "China also shares its borders with 10 of the 11 other snow leopard range countries. By default, this makes China the hub of every snow leopard conservation action," he said.
"We, on behalf of the GSLEP program, are humbled today to have China host this important conference, bringing together the global community of experts working on snow leopard research and conservation."
Up to 2,500 wild snow leopards live in China. They mainly inhabit the mountainous regions of Tibet, Sichuan, Xinjiang, Qinghai, Gansu, Ningxia and Inner Mongolia, especially the Qinghai-Tibet Plateau.
Nepal has about 350 to 500 snow leopards. There are around 100 to 200 snow leopards in Bhutan, around 200 to 600 in India, about 200 in Kazakhstan, no fewer than 200 in Kyrgyzstan, no more than 100 in Afghanistan, 500 to 1,000 in Mongolia, 200 to 420 in Pakistan, 150 to 200 in Russia, 180 to 220 in Tajikistan and 20 to 50 in Uzbekistan.
The snow leopard's fur is whitish gray with black spots on the head and neck and larger rosettes on the back and flanks. The belly is whitish and it has a bushy tail. Its shoulder height reaches up to 56 cm, and its full body head-to-toe ranges in size from 110 to 130 cm. Its tail is 80 to 105 cm long, and its eyes are pale green or grey in color. Its muzzle is short and its forehead domed. It can weigh between 38 and 75 kg.
The snow leopard has several adaptations for living in cold, mountainous environments. Its fur is thick, with hairs between 5 and 12 cm long. Its body is stocky, and its ears are small and rounded, which are features that help minimize heat loss. Its broad paws distribute its body weight well for walking on snow, and the fur on the underside of its paws increases grip for walking on steep and unstable surfaces, and also helps to minimize heat loss. Its long and flexible tail helps it maintain balance on rocky terrain. The tail is also very thick, providing fat storage, and it is covered with very thick fur, which allows the cat to use it like a blanket to protect its face while it sleeps.
Snow leopards normally live up to 10 years. It is difficult to artificially inseminate them. They are often hunted for their precious fur.