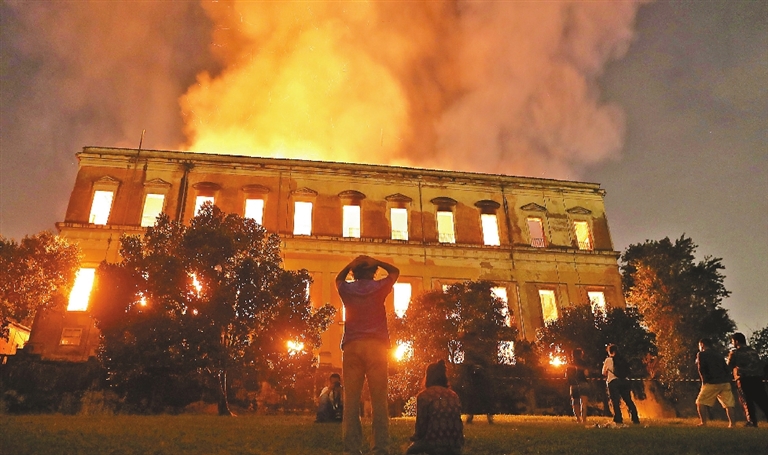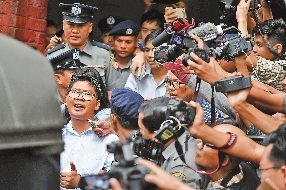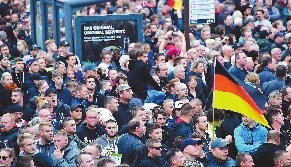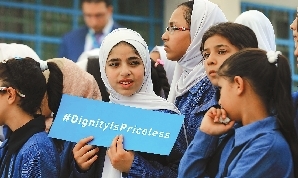 Firefighters try to save relics in Rio museum
People watch as a fire burns at the National Museum of Brazil in Rio de Janeiro, Brazil, on Sunday. The fire, which broke out at 7:30 p.m. on Sunday local time, engulfed Brazil's 200-year-old National Museum in Rio de Janeiro, which houses artifacts* from Egypt, Greco-Roman art and some of the first fossils found in Brazil.SD-Agencies
Reuters reporters jailed in Myanmar
A Myanmar judge on Monday found two Reuters journalists guilty of breaching a law on state secrets and jailed them for seven years, in a landmark case seen as a test of progress towards democracy in the Southeast Asian country.
Yangon northern district judge Ye Lwin said Wa Lone, 32, and Kyaw Soe Oo, 28, breached the colonial-era Official Secrets Act when they collected and obtained confidential* documents.
The defense can appeal the decision to the regional court and then the supreme court.
9 injured in German protests for and against migrants
Nine people were injured on Saturday on the sidelines of opposing demonstrations by the far-right and the left in the German city of Chemnitz, which was hit by anti-migrant protests last week.
Chemnitz has been in the spotlight after violent xenophobic* protests erupted over the fatal stabbing of a German man, allegedly by a Syrian and an Iraqi last month.
On Saturday, thousands of people answered a joint call by far-right party AfD and Islamophobic* street movement PEGIDA to descend once again on the streets.
2 Americans stabbed in Amsterdam
A 19-year-old Afghan citizen had a "terrorist motive" for allegedly stabbing two Americans at the main train station in Amsterdam, city authorities in the Dutch capital said on Saturday.
Amsterdam police shot and wounded the suspect after the double stabbing on Friday at Central Station. The local government said hours later that it appeared the victims weren't targeted for a specific reason, but added that investigators were not excluding* any possibilities.
US condemned for ending UN agency's funding
Palestinians on Saturday condemned the U.S. decision to end its decades of funding for the U.N. agency for Palestinian refugees (UNRWA), calling it an attack on the Palestinian people and accusing the Trump administration of trying to remove sensitive core issues from the negotiating table as it says it is preparing a Mideast peace initiative*.
The announcement raised new questions about the viability* of any future U.S. peace plan.
Spanish PM proposes referendum in Catalonia
Spain's prime minister on Monday proposed holding a referendum* in Catalonia on greater autonomy for the wealthy region but ruled out allowing a vote on independence as demanded by Catalan leaders.
Socialist Prime Minister Pedro Sanchez told radio Cadena Ser that dialogue should lead to "a vote... on the reinforcement of Catalonia's autonomy." "It is a referendum for autonomy, not for self-determination," he said.(SD-Agencies)