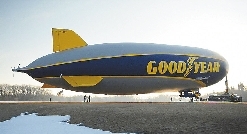 Goodyear's latest blimp has officially taken to the skies.
Dubbed the "Wingfoot Three," the tire giant unveiled the latest iteration of its iconic blue and yellow airship at its headquarters in Ohio, the United States. Like its predecessors, which first took the skies in 1969, it will continue to capture aerial* footage of sporting events.
The Wingfoot Three is almost as long as a soccer field and weighs roughly 10 tons. Goodyear's fleet of modern blimps are called "new technology," or "NT."
The NT fleets are much faster, larger and easier to fly than the old gz-20 models that were introduced in the late 1960s and retired in 2017. Unlike the gz-20 models, the NT fleet isn't technically a blimp. It's actually a semi-rigid dirigible*, which means that it maintains its shape when the helium* is drained, while a blimp goes flat when it's drained.
However, Goodyear continues to call the NT models blimps.
Goodyear's NT blimps are now designed by Germany's Zeppelin.(SD-Agencies)