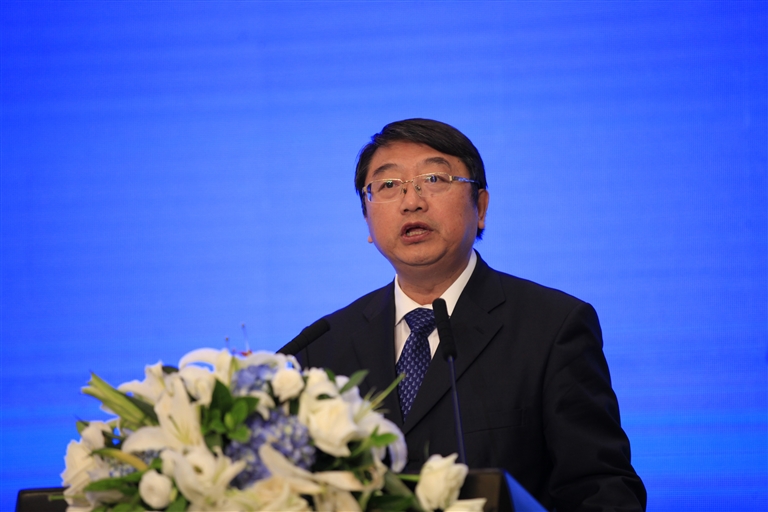 THE meeting section of the International Conference for Snow Leopard Conservation comes to an end after two days of thorough communication and discussion. Mr. Li Chunliang, deputy director of the State Forestry and Grassland Administration, especially emphasized that the Chinese Government will further invest in protecting snow leopards and the big cats' habitats. He also addressed how China would strengthen exchanges and communication with other snow leopard range countries, international organizations and experts and share methods and experiences in protecting the valuable species.
After the opening ceremony, representatives from Bhutan, China, India, Kyrgyzstan, Mongolia, Nepal, Russia and Uzbekistan introduced their country's efforts toward protecting snow leopards. From their reports, we learned that the major threats faced by snow leopards are reducing habitats, overgrazing, poaching, changing climates and lack of public awareness.
The snow leopard range countries have made different levels of progress in protecting the big cats. Most of the countries have made achievements in monitoring snow leopards and effectively controlling poaching. Meanwhile, these countries also have been enhancing public awareness and education about protecting snow leopards.
Experts and scholars from home and abroad made wonderful presentations on their own and their team's research. Their reports, 35 in total, can mainly be divided into five topics.
First, the population and distribution assessment of snow leopards. Experts analyzed the current distribution of different kinds of snow leopards and their relationships with various habitats, using scientific models to conduct evaluations and predictions.
Second, the potential threats to snow leopards in different countries and regions. Experts from various countries showed the potential threats and opportunities for snow leopard protection in the studied areas, summarized the experience and lessons for some specific issues and proposed suggestions.
Third, technical methods for snow leopard research and conservation, especially in view of the current difficulties in accurately investigating the snow leopard population. Experts exchanged the high technologies and statistical methods used in their research, in the hope of obtaining a more scientific and reliable count of snow leopards as well as the factors for better decision-making.
Fourth, the exploration of an ecosystem for snow leopards. By studying the prey and competitors that share habitats with snow leopards, impacts on the ecosystems of snow leopards can be deduced.
Fifth, best practices in snow leopard protection. This part was very rich in content. Experts and nongovernmental organizations from various countries introduced their achievements, experiences and practical cases in snow leopard conservation and wildlife protection.
Through two days of discussion and communication, I personally feel that I have gained a deeper understanding of the status quo for the protection of snow leopards, the threats that confront them, and the efforts and achievements made by the parties involved. I believe the delegates, experts and people involved in the protection work have also learned a lot.
— Yang Chao
Director of the conservation department of the State Forestry and Grassland Administration