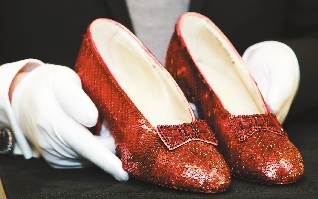 THEY are the world's most recognizable shoes, but have somehow evaded detection for 13 years since being stolen from a Minnesota museum.
But the ruby-red slippers worn by Dorothy in "The Wizard of Oz" came home again Tuesday.
U.S. authorities announced they had recovered the famous sequined shoes — one of four pairs worn by Judy Garland in the 1939 classic film. The shoes were snatched in the dead of night in 2005 from a shattered glass case at the Judy Garland Museum in the late actress' birthplace of Grand Rapids, Minnesota.
A US$1 million reward had been offered for their return. But the culprit and the fate of the shoes had remained a mystery. Authorities shed little light on what happened to the shoes, telling reporters only that they had recovered the famous pair and that there were "multiple suspects."
They unveiled the shoes — which appeared to be in good condition — in a glass case.
The Smithsonian Institution's National Museum of American History in Washington — which has another pair of Dorothy's slippers on display — authenticated the recovered pair. (SD-Agencies)