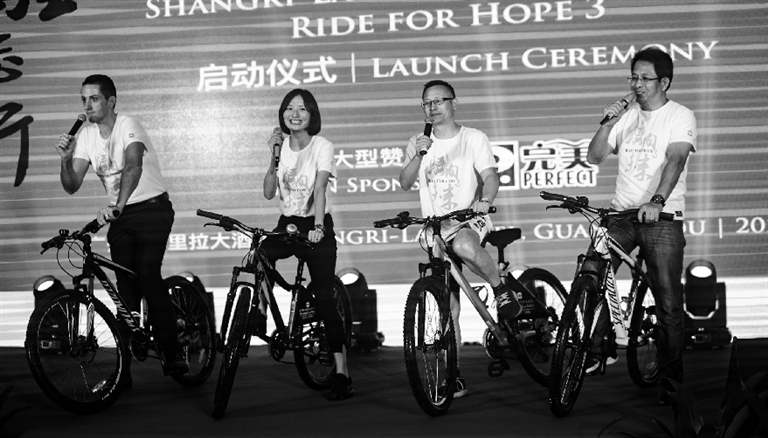 Han Ximin
ximhan@126.com
A CHARITY ride to raise funds and support the needs of children with congenital hip dislocation will be launched in October, the organizer of Shangri-La Hotels and Resorts announced at a news conference in Guangzhou yesterday.
A total of 32 cyclists recruited by 30 Shangri-La hotels via social media channels will ride 5,000 km over 15 days during the charity cycling event "Ride for Hope 3" between Oct. 20 and Nov. 3.
The event will kick off simultaneously in four different cities with four routes, covering more than 25 cities. The routes are: Nanchang to Shanghai, Xiamen to Shanghai, Beihai to Hong Kong and around Hainan Island.
Shangri-La will partner with Ai You, a 5A-level foundation in China engaged in children's healthcare, welfare and venture philanthropy, to help at least 100 orphaned and financially disadvantaged children with developmental dislocation of the hip under the foundation's Morning Star Project. The project focuses on helping children with a favorable prognosis for their disease.
"We are pleased to work with the Ai You Foundation on this mobile charity drive. I am also very proud that 30 of our Shangri-La hotels have taken the opportunity of this initiative to come together in a very memorable and meaningful way to support the foundation's work. By riding through 25 cities on the mainland and in Hong Kong, and through the various social media channels, we hope to raise public awareness about these special children's needs," said Shangri-La Executive Vice President – Operations, Charlie Dang, at the news conference.
"It will make a difference to the lives of these underprivileged children," Dang told reporters.
Zhenzhen Luo, assistant secretary general of Ai You Foundation, said the support from the Ride for Hope project will enable orphaned and poor children with degenerative diseases to get effective treatment to help them lead normal lives.
Besides the long-distance rides on the four routes, the hotels along the routes will organize local short-distance biking events that anyone can join. The Ride for Hope organizer will engage with consumers via online auctions and charity sales. Part of the revenues collected will go towards the Ai You Foundation to benefit those children who are enrolled in the Ai You Morning Star Project.