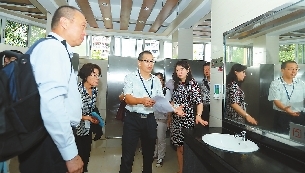 TO upgrade the public toilets in Futian CBD, the district's urban management bureau is joining hands with China Global Philanthropy Institute and Gondola Architects Inc. to build a new public toilet and renovate two old ones, which will reach the standard of urban public toilets in Japan, as well as provide a mature experience that is duplicatable and feasible.
The goal of this cooperation is to build fully functional modern and comfortable public toilets in the CBD. The district urban management bureau will also upgrade the 54 existing public toilets in the CBD.
In developed areas around the world, the public toilet has become a space not only for dealing with people's basic physiological needs, but also a relaxing space to relieve stress and collect oneself.
To this end, the bureau invited Junko Kobayashi, president of Gondola Architects Inc. and vice president of Japan Toilet Association, to carry out special research on the design of public toilets in Futian District to provide intellectual and technical support for the "toilet revolution" in Futian.
On Aug. 17 and 18, the group of 18 experts inspected eight public toilets, including the one in Fu'an Community Park and the ones along Shennan Avenue, collecting data about the surrounding environment, the public toilet buildings and their usage.
Kobayashi said that although building public toilets is important, their management also cannot be neglected. The building and the management must come together to create a high-quality public toilet.
In the upcoming cooperation, the Japanese side will provide advanced construction and management concepts for the "toilet revolution" in Futian District, highlighting functionality and user friendliness. (Chen Xiaochun)