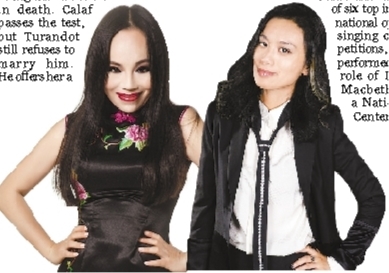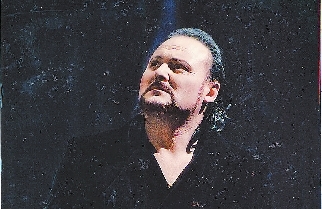 Debra Li
debra_lidan@163.com
FIVE years ago, Shenzhen Symphony Orchestra (SZSO) accompanied tenor Marco Berti and soprano Lise Lindstrom in "Turandot," the blockbuster opera of 2013 presented at Guangzhou Opera House.
On Friday night, the orchestra will present the classical Puccini opera in concert for local audiences.
Perhaps not the most famous of Giacomo Puccini's operas, "Turandot" was the final work by the Italian composer, who died before it was completed. It's well known to modern opera aficionados thanks to the definitive rendering of the aria "Nessun Dorma" ("None Shall Sleep") by tenor Luciano Pavarotti.
The opera premiered April 25, 1926 at La Scala in Milan, conducted by Arturo Toscanini. Since Puccini had died suddenly in 1924, the final scenes were written by composer Franco Alfano. The first night's performance included only Puccini's music and not Alfano's additions. The complete opera was performed on the following night, April 26.
"Turandot" is based on a play by Carlo Gozzi, which itself is based on the Persian epic poem "Haft Peykar" ("The Seven Beauties"), a tale by 12th-century poet Nizami about Prince Calaf, who tries to woo the unfeeling Princess Turandot in ancient China.
Calaf falls in love with Turandot struck by her beauty. To obtain permission to marry her, a suitor has to solve three riddles; any wrong answer results in death. Calaf passes the test, but Turandot still refuses to marry him. He offers her a way out: If she is able to learn his name before dawn the next day, then at daybreak he will die. Otherwise, the princess will have to marry him.
Liu, a maid who serves Calaf's old father, has a secret crush on the prince. When she and the old man fall captive to Turandot, Liu commits suicide rather than tell Calaf's name. The sacrifice awakens deep-hidden feeling of love in Turandot, who in turn finds herself falling in love with the prince.
Chinese folk song "Jasmine Flower" became widely known to Western audiences thanks to this opera, as Puccini had often borrowed from folk music of various cultures to give his works an exotic appeal.
Conducted by SZSO artistic director Lin Daye, the opera in concert on Friday will be directed by Zou Shuang, a graduate of London Film Academy and artistic director of Beijing Music Festival.
Soprano Sun Xiuwei will sing the titular role, while Italian-born tenor Walter Fraccaro will be Calaf. Bass cantante Tian Haojiang, baritone Liu Songhu, tenor Li Xiang and soprano Yang Qi are also casted, with Lanzhou Concert Hall Chorus, Alles Chamber Choir and SZSO Children's Choir singing the chorus part.
Sun, one of the top sopranos of China, has a rich repertoire that includes the title role in "Turandot," "Suor Angelica" and "Tosca," Abigaille in "Nabucco," Odabella in "Attila," Amelia in "Un ballo in maschera" ("A Masked Ball"), Lady Macbeth in "Macbeth," and Elisabeth in "Tannhauser," among others. The winner of six top international opera singing competitions, Sun performed the role of Lady Macbeth in a National Center for the Performing Arts' (NCPA) production of "Macbeth" starring Domingo in the title role in 2016.
Fraccaro made his debut in 1994 in "Nabucco" at the Liceu Theater in Barcelona, after winning the second prize for tenors and the Placido Domingo and Montserrat Caballe Award for best Verdi interpretation at the Francisco Vinas Competition in Barcelona in the previous year.
With a vast repertoire, Fraccaro is regularly invited to perform on the world's most prestigious stages. He has performed in "Turandot" at the Metropolitan Opera in New York City and in Seoul, "Madama Butterfly" in Nice and Athens, "Aida" in San Diego, and "Otello" in Como, Italy.
Tian, a graduate of the Central Conservatory of Music in Beijing, has been with the Metropolitan Opera for 19 years. He has earned worldwide recognition as one of today's most talented basso cantantes, singing over 1,300 performances of 40 operatic roles worldwide.
Liu, NCPA's first resident solo baritone, lives and performs in Europe. He has been the resident solo of Nurnberg State Opera and visiting lecturer of the Nurnberg Academy of Music. He has starred in more than 500 operas. One of his projects, a production of "The Fall of the House of Usher," was elected as the annual best opera by the German Ministry of Culture. In 2007, Liu became the first Chinese singer to win the top award at the Germany "La Voce" international artistic songs competition.
Li and Yang are both talented young singers from the China National Opera House.
Time: 7:30 p.m., Friday
Tickets: 50-880 yuan
Venue: Shenzhen Concert Hall, intersection of Hongli Road and Yitian Road, Futian District (福田区红荔路和益田路交汇处深圳音乐厅)
Metro: Line 3 or 4 to Children's Palace Station (少年宫站), Exit D