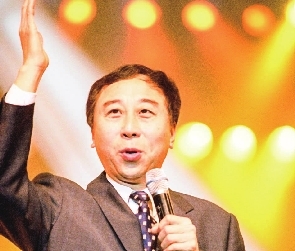 FUTIAN District signed a cooperation agreement with well-known Chinese comedian Feng Gong on Aug. 15, which means Feng will be joining other celebrities in the sports and cultural fields who have signed cooperation agreements with the Futian District government to promote Chinese folk art forms in the district, the Shenzhen Evening News reported.
Feng is a Chinese actor, crosstalk performer, director and screenwriter. He is best known for his performances in the annual CCTV New Year's Gala, having made more appearances on the show than any other major performers.
At the signing ceremony, Xiong Guoxiong, a member of the standing committee of Futian District Committee of the CPC and head of the Publicity Department of Futian District, awarded a letter of appointment to Feng for his new post as a cultural advisor. Feng also signed a cooperation agreement with He Jie, deputy head of Futian.
As a signed artist, Feng will contribute his wisdom to the long-term development of Futian's national and traditional culture. He will also offer ideas and suggestions on the inheritance and innovation of Futian's folk art culture.
Additionally, the 61-year-old will be invited to Futian every year to take part in folk art performances and exchange events that are either named after him or name him the art director.
He will play an active role in Futian's public benefit events, including folk art communication, salons and small-scale performances, and make full use of his influence and popularity to promote Futian's folk art.
"It's not because Futian needs us, but more because we need Futian that my team and I decided to come to Futian. Futian is always reform-minded and aspiring. We are here not to pay a cursory visit, but to get things done in a down-to-earth manner," said Feng. (Yang Mei)