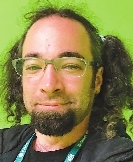 Zheng Xueying
there_sun@163.com
"SHENZHEN is the best place for developing hardware," said Noah Zerkin, founder of Wearpoint Inc., a startup developing a wearable multipurpose input device for controlling head-worn displays (AR, VR, and peripheral HUDs like Vuzix Blade) and IoT devices.
The 38-year-old man brought Wearpoint to Shenzhen five years ago as one of the hardware startups incubated at HAXLR8R, now known as HAX, a hardware accelerator based in Shenzhen and San Francisco that focuses on startups. As the world's first and largest hardware accelerator, HAX came to Shenzhen in 2011.
Foreign companies used to come to China for its cheap labor, but now, the massive talent pool, advanced capabilities and skilled workers are more compelling reasons to come, according to Zerkin. "A PCB can be produced and assembled in 24 to 48 hours after I make changes to the design, whereas in the United States it could take weeks and cost up to 10 times as much," he said. "The faster I can get and test my changes, the faster I can make it good enough for mass production." Zerkin is also helping out with project management through a contract between NOA Labs and Wearpoint.
Zerkin, from New York City, enjoys life in Shenzhen and is impressed by its world-class infrastructure and development. According to Zerkin, five years ago, cultural events were not comparable to those in New York, but now there are events like Broadway shows and Cirque du Soleil coming to town.