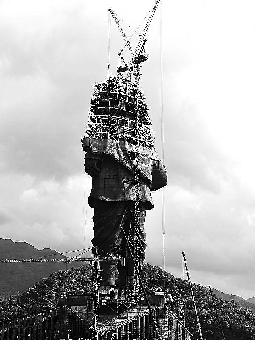 THE world's biggest statue is rising in a remote corner of India to honor an independence hero but it could quickly be outdone by a monument to a Hindu warrior king in the sea off Mumbai.
Around US$1 billion is being spent on the two giant effigies, each more than twice as tall as the Statue of Liberty.
A 182-meter-high tribute to independence icon Sardar Vallabhbhai Patel in Gujarat state will be the first to dwarf the Spring Temple Buddha in China, currently the world's biggest statue at 128 meters in height.
Pick-axes are also swinging for a 212-meter-high likeness of 17th-century king Chhatrapati Shivaji, resplendent on a horse and brandishing a sword, which should dominate the Mumbai shoreline from 2021.
An army of 2,500 workers is toiling around the clock to put bronze cladding on the figure of Patel so it can be ready for inauguration Oct. 31 by Prime Minister Narendra Modi.
The 29.9-billion-rupee (US$430 million) "Statue of Unity" overlooking the isolated Sardar Sarovar Dam is a pet project of Modi.
He has predicted it will attract "hordes" of tourists, as the Statue of Liberty does in New York.
Visitors will be able to access a viewing gallery 153 meters up — about chest height on the huge standing figure.
Patel was deputy to India's first Prime Minister Jawaharlal Nehru after independence in 1947. He became known as the "Iron Man of India" by persuading some 550 princely states to become part of India after independence from Britain in 1947. He died three years later.(SD-Agencies)