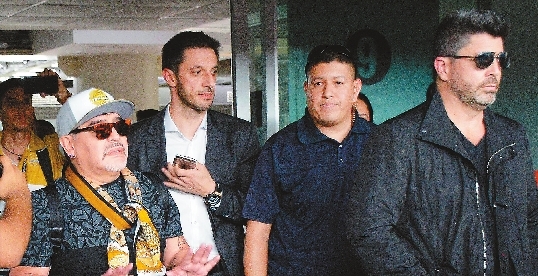 DIEGO MARADONA, whose public battles with cocaine made him soccer's poster child for the perils of substance abuse, is setting up camp in Mexico's drug cartel heartland as the new coach of a second-tier team.
The Argentine soccer legend arrived Saturday in Culiacan, home turf of the Sinaloa Cartel, to take over the bottom-dwelling Dorados in what some describe as a publicity stunt for the team and a last-ditch effort to resurrect a career marred by drugs and antics.
Maradona, 57, is a big fish for a little-known team founded just 15 years ago. He will reportedly earn US$150,000 a month.
It marks a return to the country where Maradona scored one of the most controversial goals in soccer history during Argentina's World Cup quarterfinal against England in 1986. Photos and TV replays showed Maradona's hand helping the ball into the net. He attributed the assist to the "Hand of God."
The match 32 years ago exemplified Maradona's theatrics both on and off the field. Some consider him to be the greatest player to have ever played the sport. But he is also prone to outlandish outbursts, profanity-laced tirades and public debauchery.
Maradona struggled openly with drugs for more than a decade after FIFA briefly banned him for testing positive for cocaine in 1991. He again tested positive for drug use during the 1994 World Cup and was subsequently denied entry by the United States. He was hospitalized in 2000 and again in 2004 for heart problems blamed on cocaine.
The soccer great began coaching in 1994 with uneven results. He led the Argentine national team to the quarterfinals in the 2010 World Cup before notching stints with the Al Wasl and Al-Fujairah squads in the United Arab Emirates. He accepted a role as honorary president for the Belarus premier team Dinamo Brest in July before promptly departing for Argentina.
(SD-Agencies)