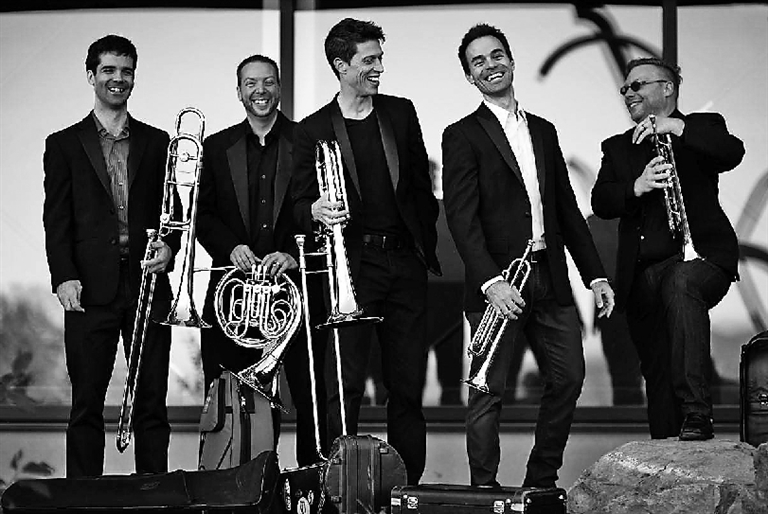 Buzz Brass from Canada will tour China for the fourth time in two years this month and give a show Sept. 29.
Since its foundation in 2002, Buzz Brass has been performing all across North America, Europe and China. The ensemble's appearance at the celebrated Edinburgh Festival Fringe in 2015 marks the beginning of a truly international outreach. The ensemble has since given over 1,500 performances on three continents, in primary and secondary schools as well as in famous halls, reaching more than 300,000 spectators, not counting a vast radio, television and Internet audience.
Journalists and spectators alike continuously acclaim the ensemble's performances while the quintet's obtaining of the 2014 OPUS Award for Concert of the Year — Multiple Repertoire is added to the numerous other prizes and distinctions that the quintet is regularly awarded and confirms Buzz's place among the best concert-music ensembles in Quebec.
Buzz has built up an exceptional repertoire for itself over the years, consisting mainly of classical music but also including jazz and traditional music. What's more, its tremendously energetic and humorous stage productions combine originality with quality interpretations. In short, Buzz knows how to amaze, bedazzle and delight every kind of audience thanks to the diversity of its musical influences, the quality of its performances and the freshness of its stage productions.
Time: 7:30 p.m., Sept. 29
Tickets: 150 yuan
Venue: Longgang Cultural Center, east side of Longcheng Square, Longgang District (龙岗区龙城广场东侧龙岗文化中心)
Metro: Line 3 to Longcheng Square Station (龙城广场站), Exit D(SD News)