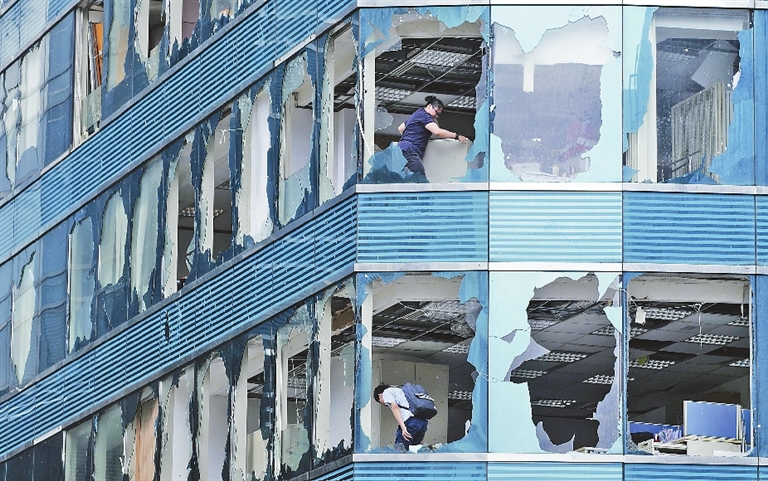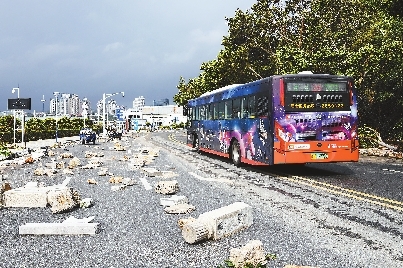 GUANGDONG, Hong Kong and Macao were picking up pieces yesterday after the strongest typhoon in decades left a trail of destruction Sunday.
Severe Typhoon Mangkhut barreled through the Pearl River Delta on Sunday, leaving a trail of damage, flooding and injuries in its wake and forcing the closure of schools, markets and most public services across the region.
After claiming at least 65 lives in the Philippines, the destructive storm made landfall at 5 p.m. Sunday on the coast of Jiangmen in western Guangdong, packing winds of up to 162 kilometers per hour, according to the provincial meteorological station.
Four deaths caused by the typhoon have been reported in Guangdong.
Guangdong recovering
High-speed trains operating inside Guangdong Province resumed operation yesterday, including Beijing-Guangzhou High-speed Railway and Guangzhou-Shenzhen-Hong Kong High-speed Railway.
The high-speed rail-loop in South China's Hainan Province also resumed operation.
According to the Guangdong Meteorological Observatory, Mangkhut will continue to generate heavy rain and bring strong winds to the province until Thursday.
In Guangdong, more than 2.45 million people were relocated, and over 48,000 fishing boats were called back to ports.
Police, firefighters and other members of government departments worked overnight to clean and repair damaged public facilities.
In the wake of the typhoon, 18 major highways across Guangdong were closed from Sunday afternoon. Thousands of flights were canceled and all high-speed rail services were suspended throughout the day.
The Guangdong civil affairs department opened more than 3,500 emergency shelters for people in need amid the natural disaster.
Limited public transport and other public services such as hospitals resumed gradually yesterday. Work was suspended at more than 29,000 construction sites and 632 tourist spots were closed in the province.
Military forces in Guangdong were sent to coastal cities, and prepared about 1,000 lifeboats and disaster relief goods for emergency rescue.
HK faces traffic chaos
Hongkongers woke to assess the damage yesterday, after Mangkhut tore through the territory.
The Hong Kong Observatory said the intensity of the storm, which required a typhoon signal No. 10 to stay in place for 10 hours, was the most powerful since records began in 1946.
"The initial analysis showed that, throughout the life cycle of Mangkhut, the sustained winds near the center reached a maximum of 250 kilometers per hour," Li Ping-wah, a senior science officer, said yesterday, the South China Morning Post reported.
"We received about 1,500 reports of fallen trees [on Sunday], more than double the figure caused by Hato," Lee said. "There were also 400 to 500 reports of broken windows caused by Mangkhut, three times the figure caused by Hato."
Intense winds and fierce rain left more than 213 people injured, and over 1,200 people had sought refuge in temporary government shelters, as of 6 p.m. Sunday.
Hong Kong managed to avoid serious casualties, but was facing a long and difficult recovery from extensive damage, flooding and travel disruption.
Mangkhut left more than 600 sections of road across Hong Kong blocked by strewn trees and other debris, officials revealed yesterday morning, the Post reported.
Commuters were left confused as they tried to get to work during large-scale suspensions of rail and bus services caused by the storm. The city's major bus companies announced they would continue to suspend most services, while ferry and rail operators said services could not resume in full.
Commissioner for Transport Mable Chan told a media briefing, attended by city leader Carrie Lam Cheng Yuet-ngor, about the more than 600 blockages.
"About 30 road sections, especially those on major highways, have been cleared for residents' commuting this morning," Chan said.
Mangkhut shut down the city for the entire day Sunday, forcing residents to stay indoors for a harrowing 10 hours under a No. 10 warning signal, as high-rise buildings swayed, windows shattered, scaffolding was blown off skyscrapers, the lift shaft of a building under construction in Tai Kok Tsui collapsed, and roads were blocked by severe flooding and fallen trees.
Rescuers were called in as torrential rains left more than two dozen neighborhoods in waist-deep water, among them low-lying coastal areas such as Lei Yue Mun, the Heng Fa Chuen residential neighborhood and the evacuated fishing village of Tai O on Lantau, the Post reported.
Storm surges caused sea levels to rise as high as 4 meters above the usual in Tsim Sha Tsui.
Public transport came to a grinding halt, while the MTR Corp. could only keep skeletal train services running along underground sections of track. Hundreds of passengers were stranded at stations.
Hundreds of travelers were stranded at the airport as well, while nearly 900 flights were canceled.
In Hung Hom, dozens of windows were blown out of a commercial building, sending paper and documents flying in the wind like confetti.
The government announced schools would remain closed yesterday as a precaution, regardless of any typhoon or warning signals. Extensive damage and blocked roads also prompted several universities to cancel classes and close offices.
The city was expected to spend days picking up the pieces and cleaning up.
The Airport Authority estimated it would take a couple of days to clear the backlog of 889 canceled flights.
Heavy damage to overhead lines at some 50 locations along the MTR network, mostly at exposed sections of the East Rail and Light Rail lines, left it doubtful whether full services could resume overnight.
The typhoon had not caused any seepage and would not derail the opening of the city's new cross-border, high-speed rail link on Sept. 23, an MTR source said.
The Hong Kong-Zhuhai-Macao Bridge Authority said non-essential workers had been evacuated from the bridge and all vessels within 3 nautical miles of the structure would be ordered to leave the area. Two high-powered tow boats would be stationed nearby to protect the bridge from incoming vessels and prevent collisions.
The moves came amid concerns about whether the soon-to-open bridge would be able to withstand Mangkhut's winds.
Power outage in Macao
In Macao, which had to shut down all its casinos, 20,000 households were facing power cuts, while severe flooding in the inner harbor area made two main roads unusable Sunday.
At least 17 people were injured, but the city appeared to have been spared the death and destruction brought by Hato last year.
The storm brought severe flooding to low-lying areas of the casino hub, forcing 1,280 citizens to flee to temporary shelters. There were also reports of 16 fires breaking out.
The government said 191 flights to and from the city had been canceled or delayed Saturday and Sunday. Flights would gradually resume starting yesterday, it said.
(SD-Agencies)