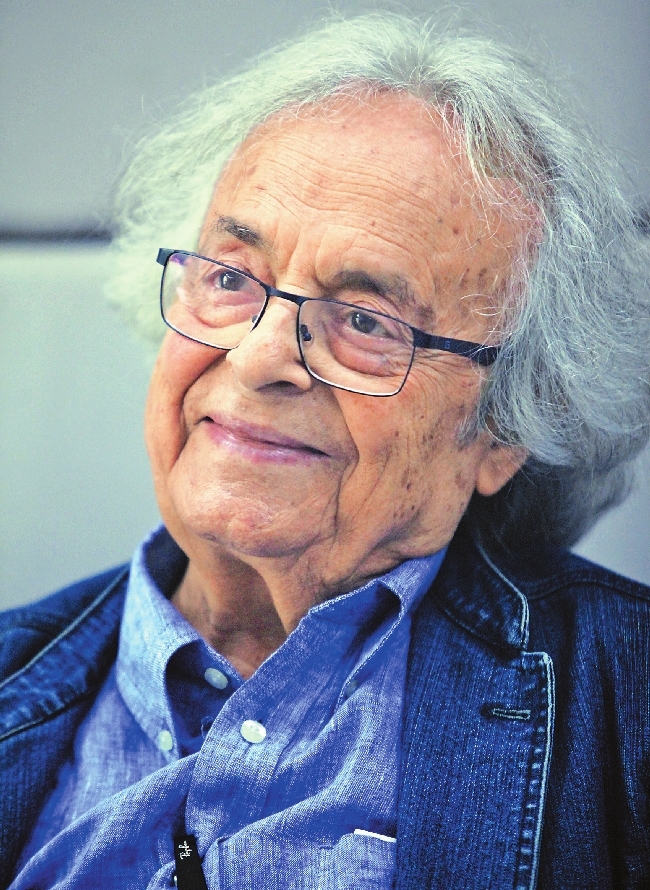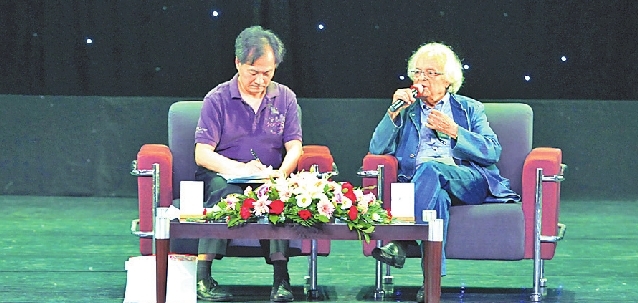 Sally Wang
orientalkid@163.com
ADONIS, a handsome youth adored by goddesses in Greek mythology, may not expect that a contemporary Arab poet from Syria would adopt his name to publish dozens of volumes of poetry, thus associating his legendary name with literature in addition to beauty, desire and vegetation.
Born into a farmer's family in a seaside village called Qassabin in northwest Syria, Ali Ahmad Said Esber has been publishing his poems under the pen name of Adonis since 18. Now aged 88, he is considered the greatest living poet in the Arab world and is still creating on a daily basis, either poems or essays or artworks. "Writing is part of my life and poetry is about love. I will keep writing as long as I live. And art gives me the childhood that I didn't have," Adonis told the Shenzhen Daily.
Just three days before Typhoon Mangkhut hit the city, Adonis flew to Shenzhen with his daughter Arwad Esber to give a lecture on poetry and attend the opening ceremony of an exhibition of his paintings. He also met Chinese poets and answered Chinese fans' questions ranging from nihility to rebellion. "I want to be friends with each of you," he told the enthusiastic audience.
Adonis has frequently visited China since 2009, when the Chinese version of his poem collection "My Loneliness Is a Garden" was first introduced into the country. His poems have a considerably large readership, especially among poetry lovers in China, thanks to the elegant and faithful translation of Xue Qingguo, translator and professor in Arabic language and literature at Beijing Foreign Studies University. The Chinese version of the poem collection has had more than 30 reprints, and a new selected poem collection in Chinese entitled "My Anxiety Is a Spark" will come out in October.
Crowned with his iconic Einstein-style hair, Adonis, though looking a bit tired, was still talkative, reacting agilely and humorously to his fans. His eyes shone beneath his glasses as he talked.
A Shenzhen resident took his daughter to present Adonis with a Chinese language poem collection that contains one of Adonis' poems as well as a piece the daughter wrote imitating Adonis' poetic style. "Oh, you should sign your name for me then," Adonis joked with the 10-year-old girl heartily.
Freeing poetry from shackles
A prolific poet, writer and translator, Adonis has done a great many literary and cultural works in his career spanning 70 years. He has published 25 volumes of poetry and around 20 other works, edited many journals, compiled the three-volume "Anthology of Arabic Poetry," and led a modernist revolution on Arabic poetry in the second half of the 20th century by promoting free verse and prose poetry. Influenced by Sufism, a kind of mysticism in Islam, his poems are full of imagination and beauty, candor and passion, with a strong sense of both Arab exoticism and criticism of the Arab culture.
"What I have been doing is liberating poetry from all sorts of shackles, from various institutions and stereotypes, be it ideological or religious," he said as he addressed hundreds of readers in attendance Friday at Shenzhen Cultural Center in Futian District.
The poet used an example to get his idea across. "When we describe a door in front of us, we may say it is rectangular and add a beautiful adjective. This description is but a reproduction of reality. We can change the mode and see the world in a freer way by saying 'the door is a woman opening her arms.'"
An inheritor and rebel
Adonis is widely recognized not only for his accomplishments in poetry, but also for his vehement criticisms and deep reflections on Arab culture and politics. A staunch critic of monotheism, he has left Syria in a self-imposed exile. Adonis first moved to Lebanon in 1956 for political reasons and has been staying in Paris since 1985. He is as much a critic of Western culture as of his own. He is a proponent of neither Christianity nor Islam. Adonis was banned from returning to Syria for the first 20 years of his exile, but now is free to return and visit his family.
Asked whether he would define himself as a reformer, a revolutionary, an inheritor or a rebel in his relation to the Arab culture, he nodded in affirmation in response to the latter three of the four descriptors.
"My relationship to the Arab culture is like father and son. I respect my father, but that doesn't mean I agree with everything my father does, " he said.
"In an Arab society, a man is born to be a son and a father at the same time," he added. "When a child is born, he is enforced upon by the father's values and thoughts. So he is born a father," he explained.
Inspiration for both sides
Adonis' lecture attracted both literature fans and poets in the city. "A gathering like this, among intellectuals, scholars, readers and authors, is important for the development of relations between China and Arab countries, and such meetings have always existed as far as I know," he said.
Adonis even quoted a household saying by the Prophet Muhammad: "Seek knowledge even if you have to go as far as China."
"It shows that China existed not only in the Arab tradition, but also in our imaginations," he said.
Chinese poets and audience members gained a lot of inspiration through Adonis' perspectives.
"What touched me most is that the Arab poet has such extensive and deep thoughts on so many issues in the Arabic world," said poet Sun Wenbo.
Sun added that there are many complaints about Chinese intellectuals, including poets, who tend to retreat into their own ivory tower of writing, neglecting real-life cultural and social issues. "We from the Orient face some of the same predicaments. The most important task for a poet should be contributing insightful thought to our cultures," he said.
"Adonis' poems have brought a loud voice of 'no' to us who are so used to saying 'yes.' His thoughts can inspire us to think about the similar challenges we face, either in terms of the burden of tradition, the pressures of reality or our complicated relation with the West," said Xue Qingguo, who received a translation and international understanding award in Qatar last year.
At the end of the lecture, Adonis answered questions from the audience either in verses from his poems or in poetic words. "I want to be friends with each of you. A friend is the other, and the other is you," he said.
"I seek nihility, but leave the rewards to life," is Xue's quote of one of Adonis' verses to a reader's question on nihility.
A childhood he never had
Wearing a bright scarf, Adonis appeared fresh in a local book store for the opening ceremony of his artworks Saturday. The paintings, or collages, which he'd rather call "rakaim," are drawings combining calligraphy, strong colors and layers of materials he found in fragments, either stone, wood, or from a flower he picked on the roadside. Most of the paintings were created this year.
"Both my poems and artworks are efforts to create meanings and value out of the meaningless world," he said. "With all the things I am doing at an old age, I hope I can return to my childhood, since I didn't have a real one. I had to do a lot of farm work as a boy."
Last but not least, he confided in the Shenzhen Daily through the translation of his daughter: "In my life, there were so many moments when I was depressed, when I was bored, when I couldn't produce a single word. Art and poetry came out of the blue."