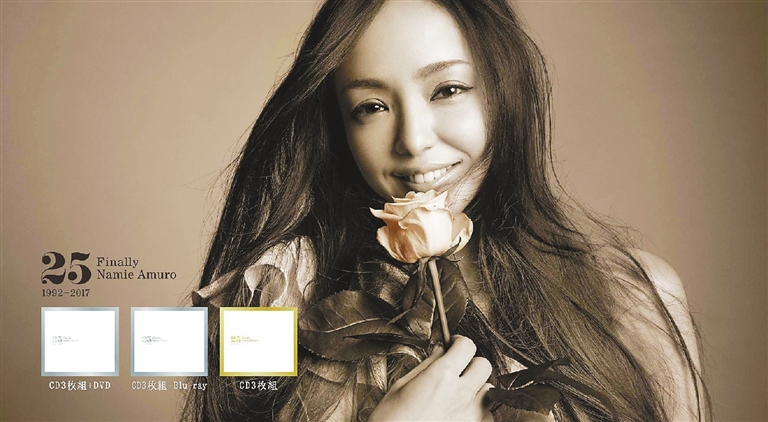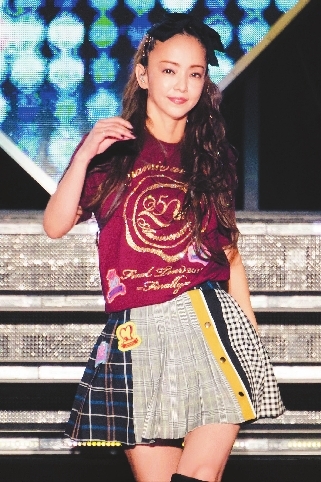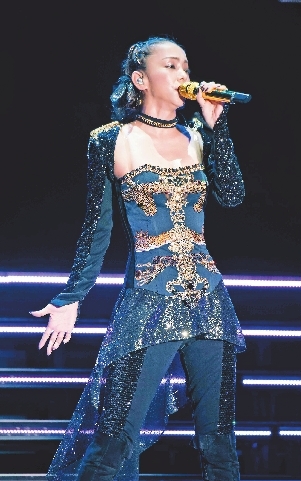 JAPANESE singer Namie Amuro, who just completed her last concert in Okinawa before her retirement Sept. 16, has been a symbol of "being oneself" since the '90s, attracting many fans in her local Okinawa, across Japan and abroad.
In her last stage appearance Sept. 15 in the city of Ginowan in the southernmost prefecture of Okinawa, Amuro wore long boots, black pants and a short-sleeved shirt which said, "I love music." She sang eight tunes with energy, running around on stage for some 40 minutes. She closed her show and her 26-year career spanning the Heisei era with a smile and a wave, saying, "Thank you, thank you very much for coming." There was no appearance after that despite repeated calls for encores from fans, some of whom broke into tears. But eventually the stadium was filled with voices of "arigato" (thank you) from the audience.
Okinawa, where Amuro was born, was placed under American control following the end of World War II in 1945, and was only returned to Japan in 1972. The island, however, was still a faraway place for many Japanese residents of the main islands. Amuro's emergence and rise to stardom has definitely shortened the psychological distance between Okinawa and the mainland.
Nanako Ashimine, a 32-year-old singer-song writer from the Okinawa prefectural capital of Naha, recalls that when she moved to Tokyo more than a decade ago hoping to become an actress, people would tell her, "Okinawa means Amuro. Okinawa is cool." She would listen to Amuro's tunes whenever she was bogged down by life in a big city she barely knew. "Don't Wanna Cry" was one such song, with lyrics saying there is a road to everywhere.
"Amuro is a treasure and the pride of Okinawa," says Ashimine.
Amuro married when she was 20, then divorced, but continued to seek musical excellence, raising her son as a single mother. The way she lived her life is admired by many women.
A 35-year-old local government official from the city of Komae in the Tokyo suburbs visited Okinawa with friends from her school years hoping to hear Amuro's voice leaking out from the concert venue. An avid fan since shortly after the singer's debut, the woman said Amuro has been her idol. "She was so cool to seek her own way single-mindedly even when things were tough for her."
Professor Keiko Yonaha of Toyo Eiwa University, a contemporary Japanese literature specialist born in Okinawa, said, "Okinawan people were encouraged by and women sympathized with Amuro, who pursued her own style of music and expressed herself on stage to her heart's content." Yonaha added that Amuro has now chosen retirement just as she chose her way of life.
Amuro made her debut in 1992 as a member of the idol group Super Monky's. After she began to work with producer Tetsuya Komuro, the singer churned out million-copy-selling danceable Euro beat songs one after another such as, "Chase the Chance." Her song "Can You Celebrate?" (1997) sold more than 2 million copies, becoming one of the biggest hits in contemporary Japan.
Amuro has given rise to various social phenomena. Her hairstyles and fashion sense also attracted a huge following across Japan and Asia. In 1996, "Amurer," which referred to such fans, was chosen as the year's buzz word.
Her excellent song performances and dancing changed the image of idols in Japan and produced a music trend in the Heisei era leading to pop groups such as Exile and Keyakizaka 46. Amuro and Komuro were trailblazers for singer-producer combinations creating mega hits, followed by the AKB48 idol group and producer Yasushi Akimoto.
With the birth of her son, Amuro shifted toward focusing more on live activities and engaging in more collaborations with R&B and hip-hop musicians. Her artisan-like approach toward work and her strength in leading the life of a single mother grabbed the attention of women who faced similar crossroads in their lives.
DVD and Blueray disks of images from her final tour have sold more than 1 million copies — a first for a Japanese music video title. Amuro's distinct departure from stardom has also impressed many fans and left them lauding the legend. (SD-Agencies)