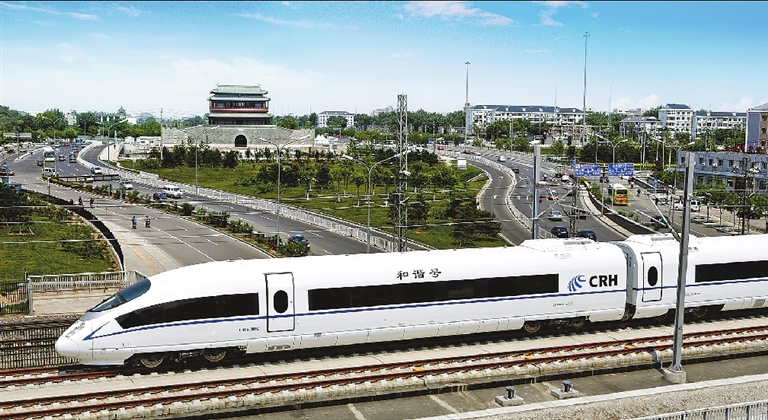 ON Oct. 26, 1978, then Chinese Vice Premier Deng Xiaoping was traveling on a Japanese bullet train from Tokyo to Kyoto when he was asked how he felt about the high-speed rail known as Shinkansen.
"I just felt it's so fast, as if someone was whipping at the back," said Deng, amazed by Japan's remarkable modernization.
"It was just right for us," he added, a word that was later widely interpreted to imply his ambition to lead China on a path of reform and opening up, which he declared seven weeks later at the Third Plenary Session of the 11th Central Committee of the Communist Party of China held in Beijing on Dec. 18-22.
At that time, Japan had the world's only two high-speed railway lines and its economy was 4.6 times bigger than that of China.
Deng, who passed away in early 1997, did not live to see today's China, which boasts 25,000 km of high-speed rail, or about 66 percent of the world's total. The Fuxing bullet train between Shanghai and Beijing runs at a speed of 350 km per hour.
In 2010, China overtook Japan as the world's second-largest economy. In 2017, China's economy was 2.5 times bigger than that of Japan.
Lifting out of poverty
Over the past 40 years, China's economy has grown at an average annual rate of 9.5 percent adjusted for inflation, and China's foreign trade has expanded at 14.5 percent annually, making China the largest merchandise-trading nation in the world.
In that same period, China has lifted more than 700 million of its people out of poverty, an achievement unprecedented in human history.
The country has been a top destination of foreign direct investment (known as FDI), with accumulated FDI between 1979 and 2017 approaching US$1.90 trillion, the largest among developing nations.
China held the world's largest foreign reserve of US$3.134 trillion by the end of 2017, compared with a mere US$167 million in 1978.
For China, such achievements all started with "crossing the river by feeling the stones" as Deng referred to the reform and opening-up drive.
The launch of four special economic zones, known as SEZ, in 1980 ushered in a wave of introducing foreign investment and technology. Shenzhen, the first SEZ, has grown from a fishing village bordering Hong Kong into a large metropolis and high-tech hub with a GDP in 2017 of US$338 billion, larger than that of Singapore.
The household responsibility system, first introduced in 1982 in agriculture and then spread to other sectors, broke the old egalitarian system known as the "iron rice bowl" and contributed to a rapid improvement of productivity and living standards.
The consolidation of State-owned enterprises in the 1990s fundamentally transformed the once centrally planned economy into a market-based one. Private businesses and foreign-funded companies have become the engine driving China's economic growth and job creation.
The accession to the World Trade Organization in 2001 has greatly propelled China's reform and opening up, making China closely integrated with the global economy.
"By his policy of opening and reform, Deng set a new path for China that brought extraordinary economic growth, improved the lives and raised the educational levels of the Chinese people, linked China more deeply with the outside world, and improved relations with the major countries of the world," said Ezra Vogel, a professor at Harvard University and author of the 2011 book "Deng Xiaoping and the Transformation of China."
Market key
"I believe the key to China's stellar growth over the past 40 years has been the expanding role of the market in resource allocation and the rise of private businesses, especially in manufacturing," added Nicholas Lardy, a senior fellow at the Peterson Institute for International Economics and a leading Western scholar on Chinese economy.
From an economy of scarcity 40 years ago, China has become the manufacturing factory of the world. China is also expected to become the world's largest retail market this year with retail sales estimated to hit US$5.8 trillion, according to Japanese bank Mizuho.
Cao Yinghui was born in October 1978, the month Deng made the trip to Japan, and is now a general manager for KTHR, a private headhunting company in Shanghai. She is part of China's fast-growing middle class which now numbers more than 300 million people.
She said she has little memory of the economy of scarcity in those years when everything from rice, meat, egg to soap and cloth was strictly rationed, but her mother brought up the subject sometimes.
In July, she and her husband took their 11-year-old daughter on a sightseeing tour to China's Taiwan. In January, Cao's in-laws joined them on a trip to Japan.
Back in 1978, most Chinese had never seen a passport. On Aug. 27 this year, the United Nations World Tourism Organization reported that in 2017, Chinese tourists spent US$258 billion on international tourism, almost one fifth of the world's total tourism spending, and in the first half of this year, Chinese made 71 million trips overseas.
"Compared with my parents' generation, my generation knows better how to enjoy life," Cao said, shortly after preparing for a roadshow at the Zhangjiang Hi-Tech Park in Shanghai's Pudong area.
Up the chain
The Chinese economy has been moving up in the global supply chain, and in recent years, efforts to switch from a model driven by export and investment to being driven by consumption and innovation have borne fruit.
For some time, China has become the engine for global growth. On an average annual basis, China contributed to 30 percent of the global economic growth since 2002.
Chinese companies have been increasingly "going global," investing all over the world from Africa to Latin America. Their investments included many infrastructural projects.
The Asian Infrastructure Investment Bank (known as AIIB), headquartered in Beijing, provides Asian countries with urgently needed infrastructure financing. The Belt and Road Initiative (known as BRI), introduced by China, is building connectivity and cooperation in Asia, Europe, Africa and beyond.
Pieter Bottelier, a former chief of the World Bank resident mission in Beijing, said the international impact of China's reform and opening-up strategy has become "increasingly global and highly positive."
"The new China has also become an important source of development assistance and commercial investment around the world," he said.
In recent years, President Xi Jinping has repeatedly pledged further reform and opening up for the country. At the Boao Forum for Asia in April, Xi vowed that China will open up further by significantly broadening market access, creating a more attractive investment environment, better protecting intellectual property rights and expanding imports.
"What has happened proves that opening up was key to China's economic growth over the past 40 years and in the same vein, high-quality development of China's economy in the future can only be achieved with greater openness," Xi said.
Lardy of the Peterson Institute, who attended the Boao Forum, said Xi has spoken positively about the benefits of globalization and opening and taken important steps to further open China, through both trade and investment liberalization.
"I hope the next steps will allow the market to play an even greater role in the domestic economy," Lardy said.
(China Daily)