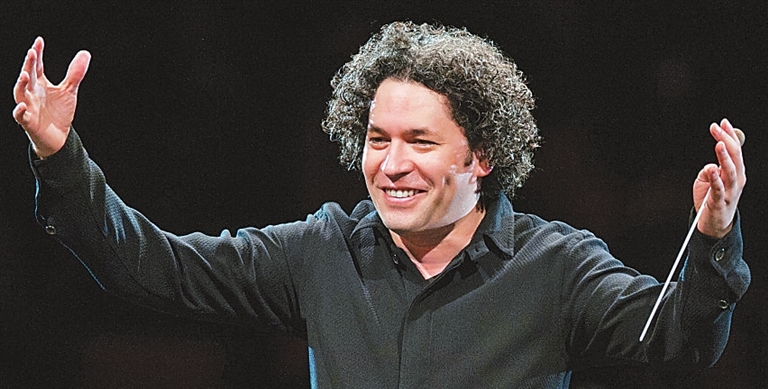 If you don't want to spend a whopping 2,890 yuan for a ticket to Berlin Philharmonic's Shenzhen concert Nov. 16, now there's a chance to enjoy it free of charge.
The concert to be held at Shenzhen Concert Hall at 8 p.m. Nov. 16 will be aired live at the opening of the fifth Lianhua Hill Glades Music Festival. Audience members can claim free tickets at Futian District's official event-listing WeChat account "szftjsf" by scanning the QR code below when detailed information is announced. A total of 15,000 tickets will be given to music lovers.
In its fifth year, the 2018 Lianhua Hill Glades Music Festival, scheduled Nov. 16-18, will feature five shows presented by five orchestras: Berlin Philharmonic, Philadelphia Festival Orchestra, Shanghai Organ & String Orchestra, African Drum Orchestra and Australian Organ & String Orchestra.
"It's not easy to buy a ticket to the much-anticipated Berlin Philharmonic's Shenzhen concert, so we are collaborating with Shenzhen Concert Hall to air it at our festival simultaneously in Lianhua Hill," said Jian Dingxiong, deputy director of the publicity department the Futian District Committee of the CPC and chief of Futian District cultural and sports bureau.
Organized by the Futian District Government and local theater management, performance and ticketing company A.C. Orange, the open-air festival is Shenzhen's late-autumn musical sensation, demonstrating that classical music can have a transformative impact on the city.
"I feel lucky because I have claimed free tickets several times. Even if I fail to grab one, I am still able to listen to the shows at the hill while flying kites," said Liu Hongjun, an audience member.
The festival not only encourages locals to relax to classical music but also advocates environmental protection and social good. Audience members are called upon to collect garbage in the park and the festival organizers will donate books to children with autism.
Schedule:
Nov. 16, 8 p.m., Berlin Philharmonic (live broadcast)
Nov. 17, 3 p.m., African Drum Orchestra
Nov. 17, 8 p.m., Philadelphia Festival Orchestra
Nov. 18, 3 p.m., Australian Organ & String Orchestra
Nov. 18, 8 p.m., Shanghai Organ & String Orchestra
Inquiries: 400-185-8666
Venue: Kite Square, Lianhua Hill Park, Hongli Road, Futian District (福田区红荔路莲花山公园风筝广场)
Metro: Line 3 or 4 to Children's Palace Station (少年宫站), Exit F
(Cao Zhen)