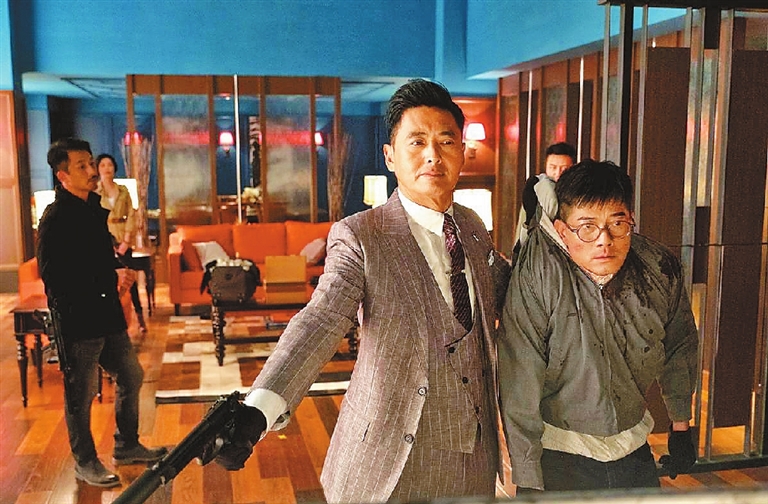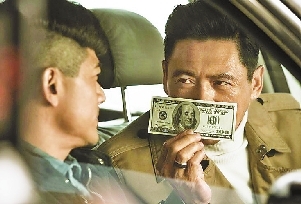 《无双》
Starring: Chow Yun-fat, Aaron Kwok, Zhang Jingchu, Catherine Chau, Joyce Feng, Liu Kai-chi, Alex Fong, Carl Ng, Jack Kao
Director: Felix Chong
HONG KONG superstar Chow Yun-fat channels some of his most iconic screen work as a suave, sophisticated, sharply dressed gentleman criminal, and Aaron Kwok continues his mid-career creativity with another vaguely unsavory character in Felix Chong's throwback crime thriller "Project Gutenberg."
Chong, best known as the writer of the "Infernal Affairs" trilogy, steps behind the camera for the first time since co-directing the last "Overheard" entry in 2014, but isn't going to make anyone forget the gangster drama that reignited the genre.
Even still, bathed as it is in rough-hewn, desaturated browns and grays, anchored by a pair of solid action set pieces, structured cleverly enough to keep the tension simmering and blessed with a pair of endlessly appealing stars, "Project Gutenberg" should generate a fair amount of interest in China.
The story starts in the mid-1990s, with Hong Kong's finest extraditing Lee Man (Kwok, still not aging) from a grimy Thai prison. Back at home, Lee is questioned about a ruthless and murderous counterfeiter, Painter, aka Ng Fuk-seng (Chow), who they've been chasing for some time. Lee is the only remaining survivor of his crew, and he's utterly terrified of the elusive Painter. Lee refuses to talk, even after the police illegally gain some evidence against him, until an old flame, Yuen Man (Zhang Jingchu, "Mission: Impossible — Rogue Nation"), shows up with a lawyer and convinces Lee to tell the police what he knows. She wants to see Painter behind bars, too: he killed her fiancé.
Convinced his betrayal will bring Painter's wrath down on him (the ethically questionable cops are counting on it), Lee agrees to talk because he's still in love with Yuen, and thus begins the usual suspects-type interrogation-room flashback of Lee's time with the gang. Lee was a failed artist living in Vancouver when Painter discovered his talent for mimicry and invited him onto the counterfeiting team aiming to create a U.S. "superdollar" so convincing it would make them a mint. Losing his more artistically adept girlfriend Yuen to the bright lights of the art world — as well as to her agent — Lee figured he had nothing to lose and joined the crew. Naturally, the more retiring, wimpy, nonviolent Lee found himself in over his head, finally landing in a Thai prison. Or did he?
To give away more details would mean revealing the movie's more salient twists and turns, though sharp-eyed viewers steeped in crime dramas may see them coming a mile away. But Chong's plot-heavy script has its share of pleasures, chiefly the opportunity for Chow to be more charmingly badass and threatening than he's been in a long time (and clearly loving it). Chong and Chow are shameless in co-opting possibly the latter's most famous single screen moment — lighting a cigarette with a burning fake greenback in "A Better Tomorrow" — and Kwok gets plenty of opportunity to tear it up as the insecure and browbeaten unreliable narrator, all while sporting a fabulously unfortunate mid-'90s hairdo.
However, if Chong is expecting lightning along the lines of "Infernal Affairs" to strike twice, he's missed the mark. "Project Gutenberg" is a perfectly serviceable diversion, but it lacks the density and cat-and-mouse psychology of "Affairs" (never mind the post-'97 themes), largely because there's no cat: Painter and Lee are meant to antagonize each other. The closest Painter and Lee get to a nemesis is Catherine Chau's inspector Ho Wai-tam, who lost a partner to the counterfeiters. Chau has a couple of intriguing moments of moral ambiguity, but Chong never really dives into that gray area, and funding from China's Bona Film Group ensures any of the murky morality that defined Hong Kong thrillers for so long will be minimal — or severely punished.
The movie is now being screened in Shenzhen.
(SD-Agencies)