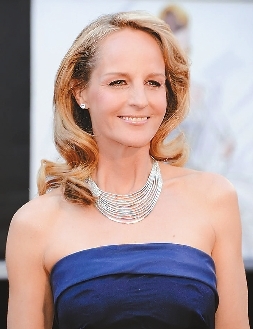 HELEN HUNT is set to lead the cast of the BBC's "World on Fire," the upcoming epic TV drama from Peter Bowker, whose series "The A Word" proved a hit on the BBC.
The series, which begins shooting this week in Prague, comes from Mammoth Screen, the prolific production banner behind Poldark, Victoria and a growing slate of shows. It will also star the Academy-nominated and Olivier-winning Lesley Manville, together with rising British stars Jonah Hauer-King and Julia Brown.
Also joining the stellar cast is Brian J. Smith, along with Parker Sawyers, Tomasz Kot, Bruno Alexander, Johannes Zeiler and Eugenie Derouand.
"World on Fire" is being billed as an adrenalized, emotionally gripping drama following the first year of World War II told through the intertwining fates of ordinary people drawn from Britain, Poland, France, Germany and the United States as they grapple with the effect of the war on their everyday lives.
"'World on Fire' tells the hidden human stories within the big historical events we think we know," said Bowker.
"From Harry, a young English translator in Warsaw caught up in negotiations with the Nazis and trying to smuggle his Polish lover Kasia out of the country, to Lois, the girl who is waiting for him at home, a young Mancunian factory worker who will come to take all the opportunities the war can offer to live a different kind of life. To Nancy, a female U.S. war correspondent who can't find peace unless her life is at risk, to the Rossler family in Berlin, worried for their soldier son and willing to do anything to protect their disabled daughter from the attentions of the ruling Nazi regime."
Filming will also take place in Britain, France and Germany.(SD-Agencies)