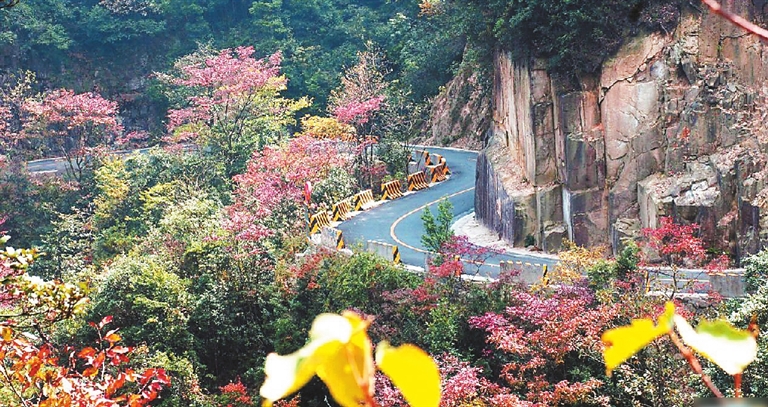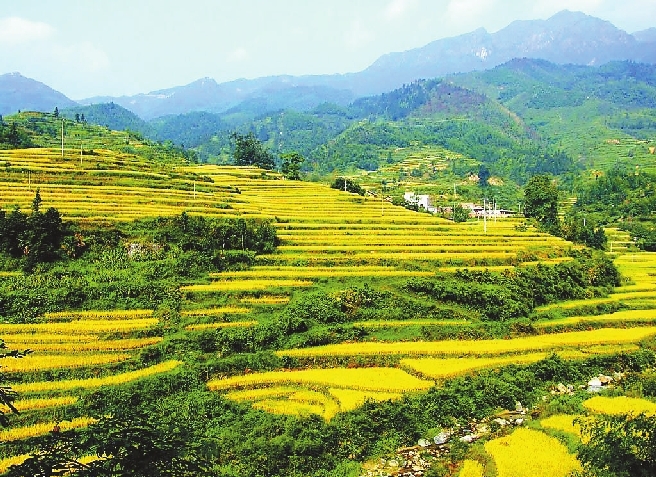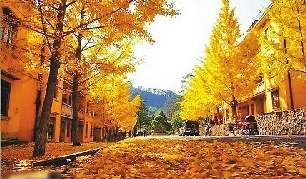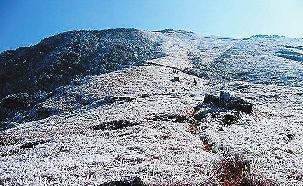 THERE'S a freshness in the air in recent days, which may give you the illusion that Guangdong is entering the autumn season. Most Shenzheners, however, are not deceived; they know that autumn basically doesn't exist in the city. But the good news is that in Shaoguan, a city not far from Shenzhen, a fairytale of autumn is on show.
Shaoguan in autumn is like a splashed palette, presenting a picturesque landscape in a blaze of colors with gold, red, blue and green, making for sights that excite the senses. It also only takes a bit over one hour to reach from Shenzhen by high-speed train.
Maozifeng Forest
Maozifeng Forest enjoys a reputation as the "Jiuzhai Valley of Northern Guangdong" for its eye-catching natural beauty. With yellow ginkgo leaves paving the ground, creating a soft carpet for the land, the whole scene is unbelievably beautiful.
When the wind comes, the golden leaves fly like golden butterflies coming from the heavens. Some of the leaves cluster, and others scatter. The beauty left behind by the ginkgo trees is so dazzling that strolling in the forest is just like walking through an oil painting.
Add: Maozifeng Forest, Nanxiong, Shaoguan 韶关市南雄市帽子峰林场
Tickets: 50 yuan per adult, 25 yuan per child
Ginkgo forest in Pingtian
Pingtian Town, known as the home of ginkgo trees in Guangdong, is located in the east of Nanxiong City. More than 16,473 acres of ginkgo trees are planted in Nanxiong, while Pingtian, with over 5,000 ginkgo trees, is one of the best spots for appreciating the colorful leaves in autumn.
Mid-November to early December every year is the best time to appreciate the golden ginkgo leaves. The golden ginkgo leaves only last for one week, so people who crave a real autumn experience do need to hurry up.
Add: Aobei Village, Junying Zhai or Jingdong in Pingtian Town, Nanxiong, Shaoguan 韶关市南雄市坪田镇坳背村、军营寨、迳洞等地
Tickets: Free
Terrace field in Sheli
Sheli Terrace Field is nicknamed "the most beautiful terrace field in Guangdong." There are altogether 11 natural villages under the jurisdiction of Sheli, each buried among terrace fields and bamboo forests.
Some large-scale terrace fields are in Shanglishe, Xialishe, Guzhuping and Muying villages.
Add: Sheli Village, Fuxi Town, Renhua County, Shaoguan 韶关市仁化县扶溪镇蛇离村
Best spots: Kuzhuping, Xialishe and Shanglishe 苦竹坪、下里社、上里社
Tickets: Free
Wushan Terrace Field
Wushan Terrace Field is situated in Shixia Village, Wushan Town, Lechang County, Shaoguan. Located next to the S247 Provincial Road, the place is convenient to reach. Walking along the road, people can find terrace fields everywhere. Standing on the mountain, you can see the panorama of the terrace fields. There are bamboo forests, waterfalls and alpine roses near the fields. The scenery here is a real feast for the eyes.
Add: Wushan Town, Lechang, Shaoguan 韶关市乐昌五山镇
Best spots: Shangli Village, Hejia Village, Caojia Village, Jingshuiwan and Xiali Village
Tickets: Free
Chuandiding Mountain in Qujiang
Some people said that this place is the overturned Noah's Ark. Nicknamed "the hardest trekking route in Guangdong," the top of the mountain is a large prairie that turns into a golden carpet in autumn.
It has an altitude of 1,586 meters, which is the second highest peak of Guangdong. Chuandiding has various kinds of geomorphologic landscapes, including bamboo groves, grasslands, brooks, wetlands, cliffs and boulder pavements. It is known as a pinnacle challenge by Guangdong hikers.
Add: Chuandiding, Qujiang District, Shaoguan 韶关市曲江区船底顶
Tickets: Free (Chen Xiaochun)