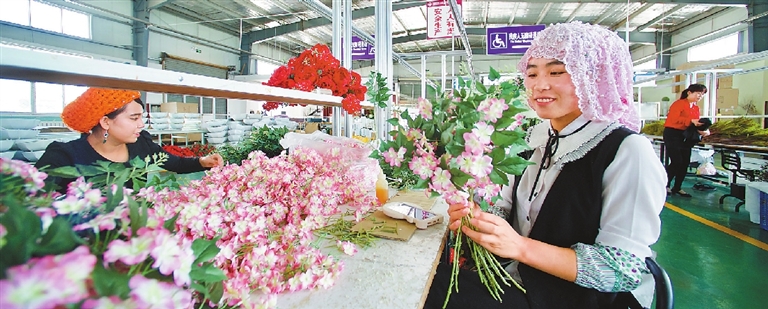 This year marks the 40th anniversary of China's reform and opening-up policy. Shenzhen Daily will run a series of stories that tell of the great changes that have taken place in different aspects of life in China over the past 40 years.
CHINA in August released a three-year guideline on winning the battle against poverty to prepare the nation for eradicating poverty by 2020.
According to the guideline, the poor population should be guaranteed food and clothing and children from poor families should be guaranteed a nine-year compulsory education. Basic medical needs and living conditions of the poor population should also be guaranteed.
Individuals whose annual income is lower than 2,300 yuan (US$336) are defined as living below the poverty line in China.
China has lifted 740 million people in rural areas out of poverty from 1978 to 2017, roughly 19 million each year, the National Bureau of Statistics (NBS) said in September.
The poverty ratio in rural areas dropped 94.4 percentage points during the same time period with an average annual decrease of 2.4 percentage points, according to the NBS.
NBS data shows that China's poverty relief achievements have contributed more than 70 percent to global poverty alleviation work in the past 40 years.
The average annual income of rural residents in impoverished areas rose an average of 10.4 percent each year from 2012 to 2017, up 2.5 percentage points from the average for rural residents.
Over the past five years, over 68 million people were lifted out of poverty. Another 30 million are set to be lifted in less than three years time.
An arduous task
Fostering distinctive industries will continue to be emphasized in the future. "To become a moderately prosperous society in all respects by 2020, our biggest area of weakness lies in rural areas, especially the poor people in rural areas," Han Jun, deputy director of the office of the central agricultural work leading group, said at a press conference.
In Southwest China's Zhexiang Township, Bouyei-Miao Autonomous Prefecture of Qianxinan, Guizhou Province, an area in deep poverty, a tourism park featuring distinctive Bouyei cloth-making studios was established amid the local government's drive to develop the ethnic cultural industry together with rural tourism.
Since its establishment in 2016, the park has created over 200 jobs for residents and has drawn many tourists.
"Sales revenue of 'Tubu,' (a cloth with special patterns of the Bouyeu ethnic group), hit over 1.2 million yuan in only six months in 2017," said Wan Tianqin, deputy manager of a local cloth manufacturing company.
The industry not only increased the township's average income but also promoted our unique culture, said Zhou Jun, deputy Party secretary of Zhexiang.
As China proceeds with developing more distinctive industries, more attention should also be given to inspire the spirits of the poor people, according to the guideline.
Medical insurance
Besides fostering distinctive industries, the biggest challenge to poverty alleviation in the last three years lies in illness-caused poverty, according to Han Jun.
To tackle the problem, the country is piloting new insurance programs covering nearly all medical expenses for registered poor people.
In Northwest China's Galou Village, Qinghai Province, Wang Quanfu managed to spend zero yuan for his wife's ovarian cancer treatment this year.
According to Wang, his medical insurance and serious illness insurance normally covers 60 percent of the medical cost, but new health insurance piloted in his county in 2016 reimbursed the remainder of his expenses for his wife's treatment.
According to Qinghai Insurance Regulatory Bureau, 44.1 percent of the province's registered poor people are under the poverty line due to illness-related expenses. The new insurance program is aimed to expand the medical reimbursement ratio for them.
"After they are reimbursed from the medical insurance and serious illness insurance, the government together with other commercial insurance companies will take care of the rest," said Qiu Zhijiang, an official with the insurance regulatory bureau.
The new insurance program has already started in many areas nationwide including Xining in Qinghai and Ningxia Hui Autonomous Region.
Anti-corruption
Anti-corruption is another priority in China's war against poverty, according to the guideline.
The country's top anti-graft body, the Central Commission for Discipline Inspection (CCDI) of the Communist Party of China, earlier this year opened a new section on its website dedicated to exposing cases of corruption and misconduct in poverty alleviation.
Among the first 24 cases exposed, six involved the misappropriation or theft of funds intended for renovating old houses, and other violations involved embezzling job training funds and dereliction of duty.
Li Linqing, former Party chief of Caozhuang Village in central China's Henan Province, was found to have reallocated more than 67,000 yuan of house renovation funds for other purposes.
Li was expelled from the Party and his case transferred to judicial departments for further investigation.
The move is part of CCDI's three-year campaign launched to keep high alert on graft in case it interferes with the poverty relief work.
"Winning the battle against poverty is a promise that the Party has made to the people and is a political task that must be fulfilled," according to the CCDI.
(Xinhua)