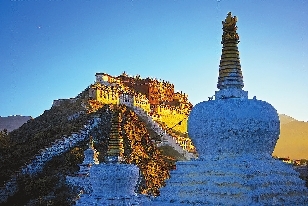 SOUTHWEST China's Tibet Autonomous Region will offer winter discounts for hotels, flights, and some of its scenic spots starting Nov. 1, according to the region's tourism development commission.
The region previously launched a free winter tour policy in February. It received more than 770,000 tourists from January and February, 45 percent more compared to the same period the previous year.
The commission said all of the region's 3A and above-3A scenic spots will offer free tours from Nov. 1 to March 15, except at most of the monastic sites. The prices of State-owned scenic spots up to 3A-level and non-State-owned A-level ones will see a decrease in winter ticket prices by 50 percent.
In addition, 40 scenic spots at 4A and 5A levels, including the Potala Palace, the NorbuLingka Park, the Yak Museum, and the Armory Museum, also will be accessible for free.
The free tour program will include the region's famous Basum Tso Lake, the Yarlung Zangbo Canyon, the Neyul Valley, the Lunang scenic sites in the region's Nyingchi city, the Qomolangma National Reserve and the Sakya Ancient Town in the region's Xigaze city.
The spots showcase the unique landscape and culture in Tibet, according to the authorities.
Tourists to the region will not only be exempted from tickets, but also see discounts in transportation, accommodation, food, and shopping.
(SD-Agencies)