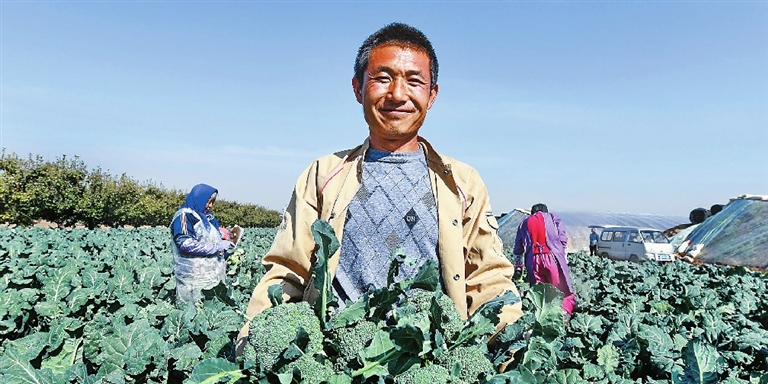 WHAT can be achieved in one hour?
A lot has changed in China over the past 40 years of reform and opening up, not least the working lives of ordinary people.
Farmer Xie Mingsheng, 53, from Shanxi Province, can cut well over a hectare of wheat in one hour with the help of two harvesting machines. Forty years ago, the same task took his six-member family almost two weeks.
The summer harvest used to be exactly the kind of drudgery Xie hated most. His face peeled under the scorching sun and a wheat allergy gave him a severe rash, leaving his arms itchy for days.
"The most frustrating thing was that I cut just the tiniest tract of wheat in an hour with only a sickle at my disposal," he recalled.
In the late 1970s, China started contracting farmland to households. Xie's family was allocated theirs in 1982. The first machinery did not arrive until 1992, when a tractor replaced the aging oxen for ploughing and transport. Now villagers have machines for sowing, weeding and harvesting. Drones spray their pesticides.
"Farming methods have completely changed," Xie said, without much regret in his voice.
Better farming means more grain. From 1978 to 2017, grain output more than doubled to 618 million tons.
Fueling the powerhouse
Higher output is not only seen in agriculture. In Xie's province, coal production hit 98,000 tons per hour in 2017, nine times the amount mined in 1978.
Twenty-nine-year-old coal miner Zhao Zhaofeng was born into a mining family. His grandfather dug coal with a pick and shovel and carried it in a bamboo basket. Dynamite was used everyday. His father, a mining electrician, helped maintain conveyor belts and lamps. Coal was then transported by the belts and carried out of shafts by carts.
Today, Zhao operates a coal cutter. The conveyor belt runs twice as fast as the one maintained by his father. Annual production of the mine is 12 million tons, 40 times the amount during his grandfather's time.
Progress has been made in almost every sector of industry, bringing exponential increases in productivity. GDP skyrocketed to 82.7 trillion yuan (US$12.5 trillion) in 2017, well over 200 times more than the pre-opening-up figure. In comparison, U.S. GDP has increased a mere eight-fold over the same period.
Reform and opening up has not only unleashed productive forces, but emancipated the people.
Feeding the people
Seeing folks leave for cities and bring back fortunes, former farmer Han Yonghui left his rural home in Xiangfen County in 1997 to start a shaobing business in Tianjin. Shaobing is a type of flat bread usually eaten for breakfast.
"I never thought a farmer like me could live in such a big city and own my own business," said Han, who now runs a small restaurant in Miyun District of Beijing.
He sells dozens of shaobing an hour during the breakfast rush, making over 10,000 yuan a month.
When he first left his hometown, he had to walk for an hour to the nearest train station and wait in line overnight to buy a ticket, before boarding a packed slow train that took him to Tianjin in 18 sweltering hours.
All that changed in 2014 when high-speed trains reached Han's hometown, cutting his travel time to six hours.
In 2008, China opened its first high-speed railway line, making the 150-km trip between Beijing and Tianjin in half an hour. The length of high-speed railway lines reached 25,000 km in 2017.
Han's siblings all work in cities, earning much more money than they ever did from farming. In 2011, Han bought a car and built a new house in his hometown for his parents.
Tens of millions of rural people like Han no longer consider themselves poor. China aims to eradicate the misery of absolute poverty by 2020. Since 2012, some 68 million people have escaped from the poverty trap, which works out to an average of 1,564 people every hour of every day.
Delivering the goods
What an hour means in China is even more shocking when it comes to express delivery and e-commerce.
Postman Guo Xiaohong, 52, used to be the only connection between villagers in remote Lingchuan County and the outside world.
He had to trek dozens of miles to deliver mail, carrying several kilos of parcels. Villagers often turned to him to bring them small commodities that were not available in the village stores.
He walked around 5 km every hour, delivering a few letters each day. By contrast, today in the provincial capital of Taiyuan, the company he works for delivers 2,500 packages each hour, largely online purchases.
"Even my 80-year-old mother uses a smartphone now," said Guo, adding that they video call each other every day.
Five years ago, an average of 650,000 packages were delivered each hour. The figure has jumped to over 4.5 million today, representing a lot of jobs and a lot of spending power.
In today's China, every hour nearly 23 billion yuan is spent via smartphone, 3,300 vehicles are produced and goods worth 3.2 billion yuan cross the border.
Reform and opening up may have taken 40 years to get this far, but with each passing hour the miracle continues. (Xinhua)