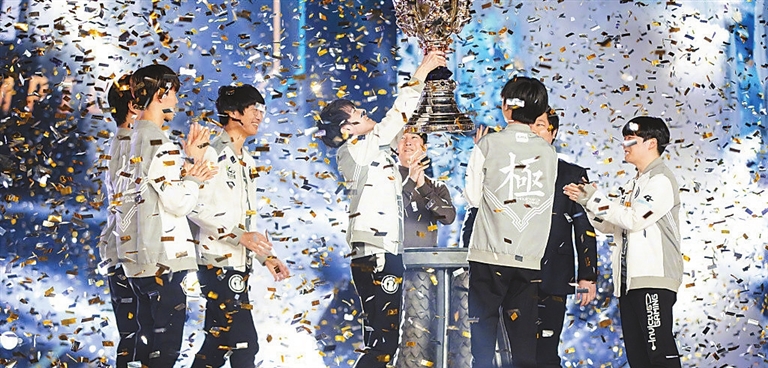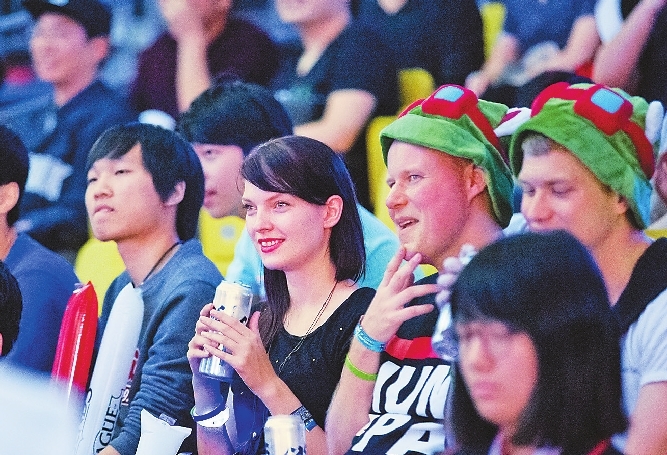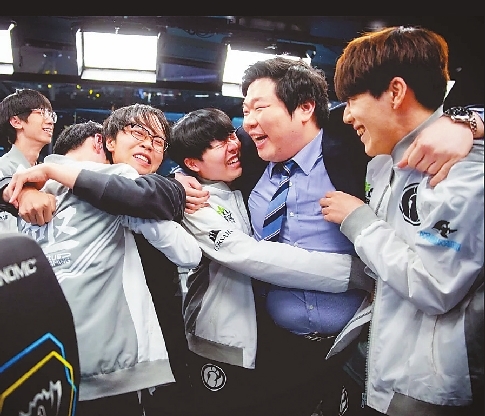 CHINA'S social media platforms were awash in ecstasy and pride when the Chinese team dealt the death blow to their opponents' base in the final of "League of Legends" (LoL) World Championship on Nov. 3.
After a hit-and-miss campaign in the competition's qualifying stages, Chinese team Invictus Gaming, or IG for short, emerged victorious after a decisive 3-0 finals victory over European squad Fnatic — a team they had lost to twice in earlier stages. When the final match ended, IG's three South Korean and three Chinese players — known as Duke, Rookie, Baolan, Ning, TheShy, and JackeyLove — leapt out of their seats and into a group hug. For their efforts, they will take home the tournament's hefty trophy, the Summoner's Cup, and a cash prize of over US$840,000.
"It's like winning an Olympic gold, a teenage dream come true," writes one 30-something audience member of the competition on his WeChat feed.
Many others share that sentiment. In three days, the hashtag #IG冠军, which means "IG the champion," has generated over 1 million threads on Weibo, China's equivalent of Twitter with over 4 million monthly active users. Videos of young fans lighting fireworks and bellowing at the tops of their lungs in their university dorms flooded Chinese social media on Saturday night.
IG's victory marks the first time a Chinese team has won the world championship for LoL, the world's most-played PC game according to research firm Newzoo. The role-playing and monster-slaying title is run by Riot Games Inc., a Los Angeles-headquartered studio that Tencent fully bought out in 2015.
It is also a critical moment for China's first-generation of players who grew up under parents and teachers who too easily dismissed all kinds of video games.
It wasn't just gamers and the youth cheering for IG. Chinese mainstream media also rushed to congratulate the team. Shortly after the victory, China Central Television posted a slick graphic on Weibo to congratulate the team on their victory. An op-ed from Guangming Daily called IG's victory "an alternative path to the national sports dream."
China has a history of obsessing over sports, evident in its nation-wide passion for the Olympics. Now esports — or competitive video gaming — as an officially recognized sporting event, is gaining ground. Esports in China has grown from a 53.2-billion-yuan (US$7.72 billion) industry in 2016 into one that's estimated to earmark 88.7 billion yuan (US$12.87 billion) in revenue in 2018, according to research firm Gamma Data. Several Chinese cities have expressed a desire to become esports hubs, and gaming can even be studied as a subject at some universities.
Private companies have joined in the game, too. Tencent, China's largest gaming company by revenue, has invested in NYSE-listed Huya and Douyu, two of China's leading esports livestreaming services. IG itself is an esports organization that Wang Sicong, son of China's once richest man Wang Jianlin, founded in 2011 and catapulted to today's stardom.
But the relationship with video games overall has always been murky for the watchdog. While the government is rooting for professional gaming, it's tightening control over leisure ones, condemning game publishers like Tencent for "poisoning" juveniles with blockbuster titles.
"The Chinese Government treats esports and leisure games very differently," a staff member in the esports division of a major global gaming studio who asks to remain anonymous told TechCrunch in an interview. "I don't think IG's victory will cause big changes to the government's attitude."
Tencent, which earns two-thirds of its revenue from online gaming, lost US$17.5 billion in market valuation when China's State newspaper slashed its popular "Honor of Kings," widely regarded a mobile copycat of LoL. This year, a hiatus in game license approvals again puts pressure on Tencent stock prices and profitability.
For esports and League of Legends alone, however, IG's glory could mean a brighter future. "At least now we will see League of Legends' popularity continue into a couple more years. Esports' development may also benefit from the event," suggests the gaming company staff member. (SD-Agencies)