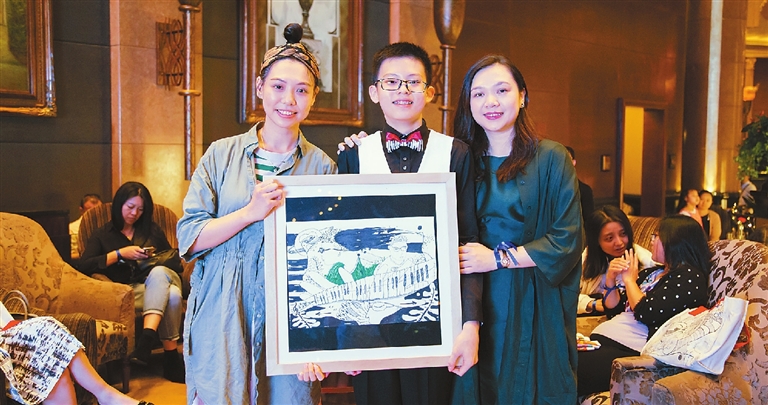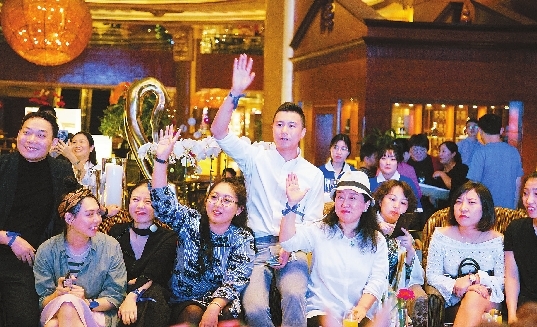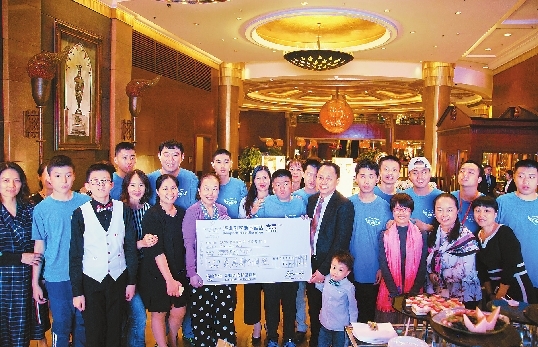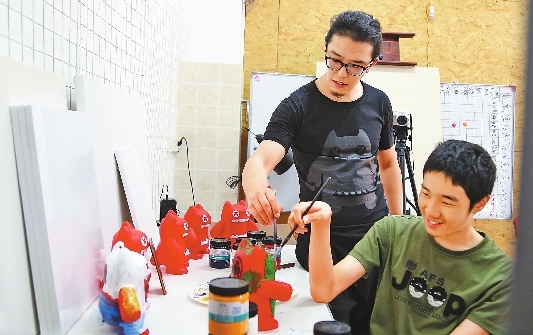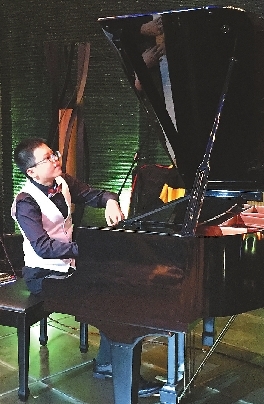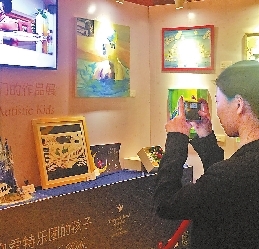 Debra Li
debra_lidan@163.com
IT'S unfortunate that they cannot communicate freely and have a normal social life like the rest of us. But it's fortunate that they have loving parents and many others who are willing to help them realize their potential and live their lives to the full.
A special auction was held Tuesday evening at Kempinski Hotel Shenzhen that gave 12 local autism patients an opportunity to present their artistic talent and helped raise money for their families.
"It's the best way we can think to celebrate the hotel's 12th anniversary," said the hotel's property representative Shao Shengqiang.
The 12 members of Autism Team, a band formed Oct. 17, 2013, gave a performance of songs, piano solos and a keyboard quartet at the auction, which saw their fine artworks raise 9,950 yuan (US$1,430) for their families.
Opening the night's performance was Haifeng, who played "Autumn Moon over the Calm Lake" and another Chinese piece on the piano. A merited student at Lang Lang's Piano School in Shenzhen, he also created an illustration in collaboration of young local artist Lu Xiaobei. The work was purchased by Kare Ma, headmaster of the piano school who came to support the special student.
The work that fetched the biggest sum of 1,750 yuan during the auction was created by Beibei and local radio program producer Ma Hao. The pair created a hand-drawn picture book that goes with an audio version depicting the story of a music-loving bunny. "The bunny is Beibei himself," Ma told the attendees at the event.
As the oldest member of Autism Team, Beibei is already 35. For the first 20 years of his life, Beibei treated his parents as if they were transparent and never responded to their questions. "It was through learning the piano that he started to open his heart to the world," said Lynn Xiao, PR manager with Kempinski.
Yu Hai, creator of the popular online cartoon "Zombie Cat," contributed his share. Yu collaborated with Hanhan to create an oil painting that was auctioned together with his Zombie Cat sculpture.
The hotel also donated 24,000 yuan from the revenue of their room bookings towards Autism Team.
Shao called for more people to extend a helping hand to this disadvantaged group. "Autistic patients are na?ve and live in their own world," he said. "Sometimes, their behavior may appear strange, and those without knowledge of the disease may even misinterpret them as aggressive or impolite. We hope all of society will give them more support and tolerance. They, too, deserve a better future."