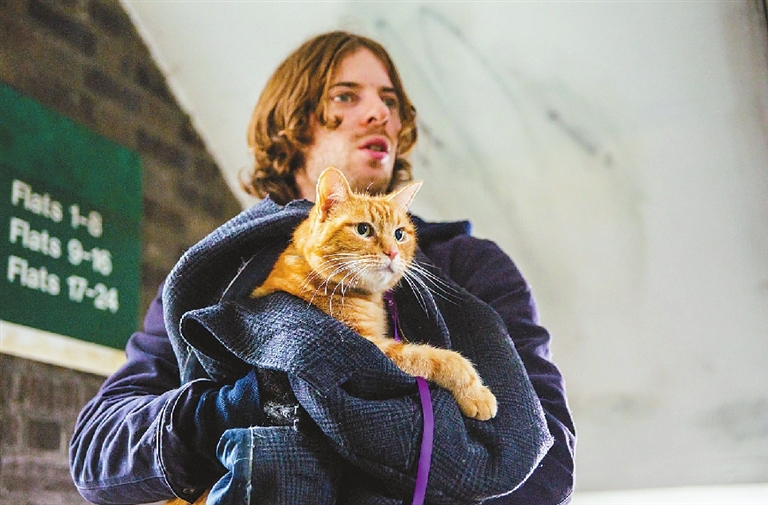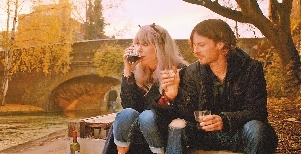 Starring: Luke Treadaway, Ruta Gedmintas, Joanne Froggatt, Anthony Head, Caroline Goodall, Darren Evans Director: Roger Spottiswoode
BRITISH street musician James Bowen's autobiographical book, a less-fluffy-than-it-sounds tale about how a stray orange tomcat saved his life, is translated into companion-animal drama "A Street Cat Named Bob," a film that admirably tries to remain true to the slightly gritty spirit of its source material. Unfortunately, it also occasionally sprays the wall with maudlin touches and misjudged additions to the story.
When the producers decided to hire veteran Roger Spottiswoode, clearly his years spent directing the likes of "Tomorrow Never Dies" and "And the Band Played On" were less relevant than the fact that he has dog comedy "Turner & Hooch" on his résumé. A genuine affection for animals shines throughout, and it's hard not to admire the way the production has bravely opted for the path of most resistance by wrangling real cats instead of using expensive visual effects to create digital kitties.
Enjoying his biggest onscreen role since starring in David Mackenzie's sweet but slight "Tonight You're Mine" (aka "You Instead"), Luke Treadaway, who won numerous awards and plaudits for his work in the original London production of "The Curious Incident of the Dog in the Night-Time," grows his hair out to play protagonist James Bowen.
Impersonating the real Bowen's slightly nasal, semi-Australian accent, Treadaway projects an air of damaged fragility and skittishness, especially in the first part as the homeless James struggles to find makeshift shelter on the streets of London.
One night, James overdoses on heroin and wakes up in hospital. Drug counselor Val (Joanne Froggatt in "Downton Abbey") helps him get on a methadone program to treat his addiction, and eventually Val and James' patient, Ken Loach-film-style navigation of the system secures James a one-bedroom apartment where he can stay off the streets. To supplement his welfare check, he strums his battered guitar around in Covent Garden, a popular touristy neighborhood in central London.
At his new flat one evening, James finds a bedraggled ginger tabby stealing cereal in his kitchen. The cat decides to adopt James, especially after the latter spends what's nearly his last few pounds buying medicine for an abscess on the street cat's leg. Getting friendly with neighbor and veterinarian assistant Betty (Ruta Gedmintas), a pastel-pink-haired specimen of the vegan pixie breed, James learns the ways of the cat and Betty helps to name their new friend Bob.
As readers of the book and those who came across the many YouTube videos of Bob and James will already know, Bob proves to be an extraordinarily calm, faithful and trainable cat. He follows James onto a bus one morning and won't go home, and soon he's on a cat harness to keep him safe, and spending his days happily sitting by James guitar case as his friend strums away, later learning how to travel by clinging to James' shoulders and give a high-five (these stunts, according to the press notes, were mostly performed by the real Bob). Their daily takings soar, and while it's not quite enough to keep Bob in sushi-grade tuna, their quality of life improves and they make many new friends, some played by familiar British characters like the lovely Ruth Sheen, who's not in it nearly enough.
It's perhaps understandable that screenwriters Tim John and Maria Nation and the filmmakers should feel the need to fill out James and Bob's slim true-life story with extra emotional beats in the shape of James' tentative romance with Betty and efforts to reconcile with his suburban English father Jack (Anthony Head in "Buffy the Vampire"). However, the writing of these storylines is anemic and riddled with clichés, and leeches oxygen away from the most important relationship in the film: that between man and cat.
The movie is now being screened in Shenzhen. (SD-Agencies)