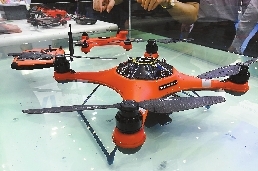 Zhang Yu
JeniZhang13@163.com
POSSESSING the unique advantage of being able to capture amazing pictures from different angles, drones have enjoyed great popularity all over the world in recent years. However, drones are also easily affected by weather and their surroundings.
Such a shortcoming seems to no longer be a problem for drone enthusiasts, as Shenzhen-based drone company SwellPro has released its latest version of a waterproof all-weather drone at the 20th China Hi-Tech Fair, which is being held at the Shenzhen Convention and Exhibition Center.
"Since the beginning, our company's Splash Drone has been designed as a multifunctional flying platform with multiple modules to fit specific missions for various industries. Its high-definition payload release module opens up many possibilities, from carrying bait for fishing to a life preserver for rescue missions," said Lesley Li, a staffer with the company's marketing department.
Li said that an ordinary drone may break if it flies in rainy weather or in wet areas, but Splash Drone can float on the water's surface and its special coating can resist the corrosive effects of both fresh water and seawater.
In addition to Splash Drone, the company's Freefly Pro has also drawn a lot of attention. Li said Freefly Pro caters to people who love action filming while doing water sports since it's relatively portable and easier to use.
"At present, our products have been sold to dozens of countries and regions, including some European countries, New Zealand, Japan and South Korea," Li said.