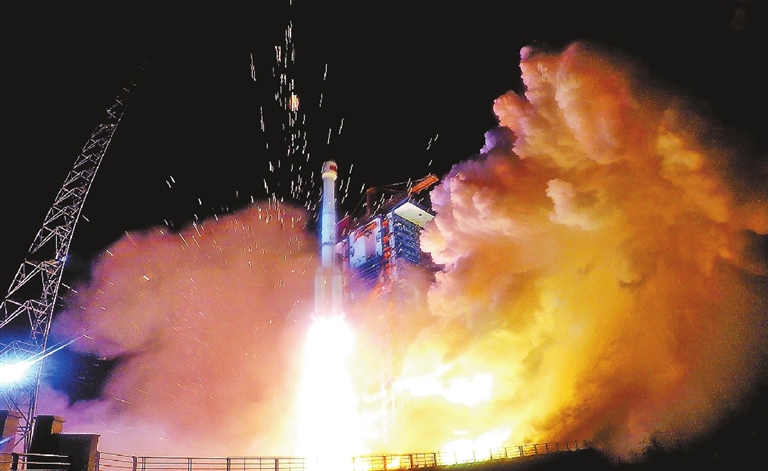 WHEN the Chinese invented the compass, humanity steered into uncharted waters. Now China is navigating the world in the new era of global exchange with a new option — its fledging BeiDou Navigation Satellite System (BDS).
With the launch of two new BDS-3 satellites yesterday, China will complete the basic navigation system and start providing services for countries participating in the Belt and Road Initiative by the end of this year.
"This is a key step for BDS developing from a domestic Chinese system to a regional and then a global navigation system," said Yang Changfeng, chief designer of the BeiDou system.
China plans to launch another 11 BDS-3 satellites in the coming two years. By the end of 2020, the BeiDou system, named after the Chinese term for the Big Dipper constellation, will span the globe and provide high-precision, reliable positioning, navigation and timing services anywhere in the world. "China develops BDS through a unique technological approach, contributing Chinese wisdom to the theory and construction of international satellite navigation systems," said Xie Jun, deputy chief designer at BeiDou.
In 2018, a total of 18 BDS satellites were sent into space from the Xichang Satellite Launch Center in Southwest China's Sichuan Province.
"This year has seen the most intensive launch of the BDS satellites. We improved our work efficiency by reforming the management process. The number of satellite staff at the launch center has been reduced by nearly half, and the testing time before launch has been shortened by nearly a third," said Chi Jun, head of the BDS-3 satellite team from the China Academy of Space Technology (CAST).
Chi has been working in the valley of the launch center for more than six months, but he has never seen a BDS satellite launch in person as he has to monitor data from an off-site computer during each launch.
At the CAST production base in Beijing, several BDS satellites are being manufactured at the same time. "We try to improve intelligent manufacturing capabilities and cut down production times. Construction of the BDS-3 system has accelerated," Chi said.
Wang Jingang, deputy chief designer of the BDS-3 satellites, has participated in the development of BDS-1, BDS-2 and BDS-3 systems. "It's a rare chance to devote my intelligence to a symbolic national project."
Experiencing failure in the past has left a deep impression on him. A BDS-2 satellite failed in orbit in 2009. To identify the fault, the whole team of satellite developers stayed in their office building for more than a month, working til midnight every day.
"It was an unforgettable experience, and if the fault was not found, we would be punished by failure again." Wang said.
Eventually, they found the cause of the breakdown and the solution. Since then, all Chinese satellites have avoided similar problems.
"When friends or relatives learn that I am working on the development of the BDS satellites, they often show me the BDS signals on their mobile phones. People still mainly depend on navigation by GPS, supplemented by BDS. I hope that in a few years, people can be navigated mainly by BDS," Wang said.
China decided to build its own satellite navigation system in 1994, and the BDS-1 system was completed in 2000. Although its service area was limited and its accuracy was not high, China had created its own navigation system with only two satellites.
Then it took China eight years to construct the BDS-2 system with over a dozen satellites, which began to service the Asia-Pacific region in 2012.
China started to build the BDS-3 system in 2009 with greatly improved technologies. Communication, data transmission and ranging among satellites can be achieved through inter-satellite links. The design life of the BDS-3 satellites has been extended from BDS-2's eight years to more than 10 years.
The system's signals and positioning accuracy have improved significantly. The BDS-3 satellites are equipped with high-precision rubidium and hydrogen atomic clocks independently developed by China. These are only off time by one second every 3 million years.
The positioning accuracy of the BDS-3 system has been improved to 2.5 meters to 5 meters, up to twice as high as the BDS-2 system, according to Yang.
(Xinhua)