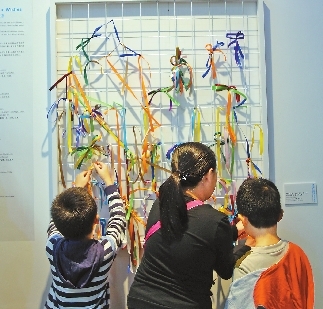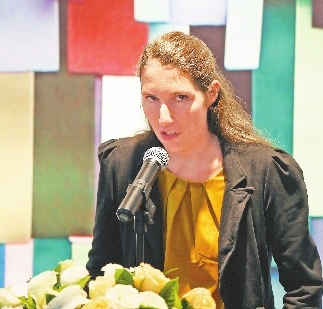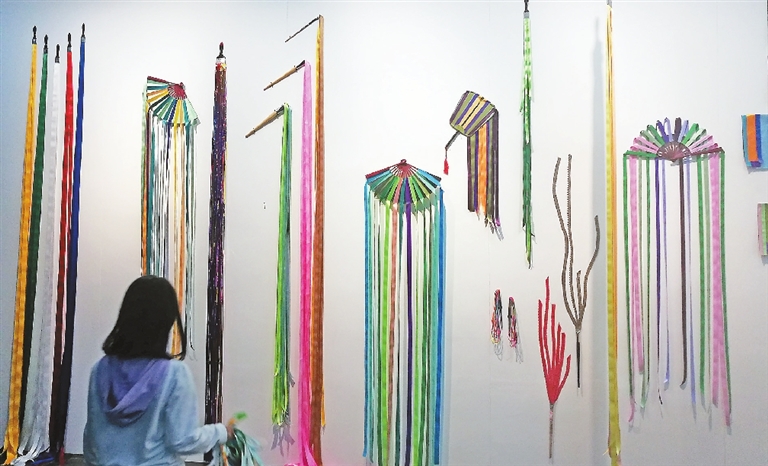 Sally Wang
orientalkid@163.com
AMID a shower of autumn rain that clouded the city Sunday, German artist Barbara Engelhard's colorful show of installations opened at the Shenzhen Fine Art Institute, brightening the rainy weekend with the kaleidoscopic artworks she created during her three-week stay in Shenzhen.
As the title of the art show, "Color Rhythms," suggests, the 44-year-old artist from Nuremberg uses a mixture of colors and a variety of materials including ribbons, brushes, fans and photos in her indoor and outdoor installations.
"I like colors. I am very impressed with cultures that have lots of color," said the artist, who was wearing bright yellow inside her well-cut suit at the opening ceremony.
Engelhard, born in Fürth, a city contiguous with Nuremburg, is really very international in terms of artistic style. At 18, she visited her sister in Mexico and studied Spanish and folk arts there for one year. Influenced by Mexican artist Frida Kahlo and impressed by the myriad colors in Mexican culture, she started to replicate what she saw when she returned to Germany,
"There are not many colors in Germany. As an open space artist I try to make streets more colorful with carpets and hang ribbons on the outside walls," she said.
The hall in the museum is lightened with colored ribbons made of silk, which Engelhard said have many meanings both in China and in Germany, from happiness to grief, and symbolic colors are used as a sign of festivals, prayers and wishes. She loves the idea of using common materials like ribbons, taking them out of context and making new things with them.
"When I searched for ribbons on the Internet in Germany, I very often came across websites in China because they are produced in China. So it is very interesting for me to go to the country where my material is produced," she said.
Engelhard came to Shenzhen for an exchange program between Shenzhen's and Nuremburg's artists that has been ongoing since 2001. Eight artists from Nuremburg and nine from Shenzhen have taken part in the exchange program, resulting in fresh stimulation and perspectives for them all.
Vivid local lives and artistic activities have lent a lot of inspiration to Engelhard and her creations in Shenzhen.
She saw that dustmen in Shenzhen use colorful brooms to sweep the floor, like yellow or red, instead of the monotonous dark or light brown used in Germany. She found that the fishing nets used by fishermen in Yinhu Lake were also of variegated shades: violet, blue or orange. She noticed the blue floors and the yellow dragons painted on a blue metro bus. She took snapshots of them with her Cannon D60, and the splendid pictures were hung on the walls in the institute in the style of a Chinese scroll painting, showing people in town what a colorful city they are actually residing in.
"I'd like to give people a hint or possibility about what they can do with their lives. Life is beautiful. People can give new opinions and new feels to things," she said.
The exchange program also brought artists in the two cities closer and provided Engelhard a chance to see traditional Chinese culture come alive. Zheng Qiang, a Shenzhen artist who visited Nuremburg via the exchange program earlier this year, invited Engelhard to watch Beijing opera and Qinqiang opera in the Studio Theater at the Nanshan Culture & Sports Center.
Doubts remained as to how much Engelhard comprehended of the famous Beijing opera "Mu Guiying Takes Command" and the Qinqiang opera "The Story of Incense," but she definitely was fascinated with the heroines' costumes with long sleeves, which inspired her to combine a fan with long ribbons. The installation, entitled "Dancing with Colors," is the German artist's Oriental-styled artwork produced in Shenzhen.
"Being here for three weeks, I have new inspirations in a new country, I can discover new things and maybe new material like this fan. This is really very exciting for me," she said.
Engelhard loves ribbons because they are flexible, easy to put into luggage and later on be used to make big installations. Also Engelhard stressed that she was producing arts for people, not just for herself. She would like to get people with no idea about art involved with her public art performances. "People can participate in my arts and they are in my arts," she said, inviting visitors to the exhibition to choose the ribbons with the colors they wish, and do either color combination or knots on the picture grid.
This is typical of Engelhard in her public space art creation. She once collected 500 old chairs and put them in a central place in Germany, inviting people to come together and sit down. She also celebrated her performance with strangers, making it yet another art performance. "I was thinking, 'Why do I always have to do this just with friends?' So I started to celebrate with strangers in strange places," she said, suggesting again her belief in giving new possibilities and new feels to life.
"What is remarkable in Engelhard's works are that she really put Chinese elements into her art and she is creating more here in Shenzhen. Another part is that she encourages visitors to participate in the creation of art together with her," said Kong Sen, art director at Shenzhen Fine Art Institute.
Engelhard said she is the only artist in her family. But her father really liked to take her to art museums a lot when she was a kid. Her grandmother is also a big fan of traveling, making super 8mm films when she traveled abroad, thus bringing films of different cultures home. Now for each holiday she also tries to visit a friend of hers in a different country so as to experience the different cultures.
Her hometown Numerberg, a city famous for the Nuremburg trials and toys, Christmas markets and sausages, also boasts of a fine arts academy that has a tradition of 350 years of artistic education — the oldest in Germany. There, Engelhard studied classic painting for her bachelor's degree and art in public spaces for her master's degree. She is now teaching there.
She also has a studio of her own in Nuremberg and keeps herself busy with both art creation projects and teaching arts in different places to different age groups, from little children to the elderly.
Knowing that she has three children aged 6, 11, and 13, I couldn't help asking the cliché question — how do you balance your life and work?
Her answers were a reflection of a good life of an accomplished woman artist. "At the moment, my husband is managing the family. We have good connections with families who also have three kids. Sometimes we exchange with them to take care of the kids. And we also have great grandparents who support us," she said.
Engelhard's next missions? Exhibitions in two galleries and an art project for a school building, both in Nuremburg in 2019. "As an artist in Germany, you have to work hard," she said.