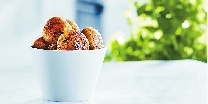 IKEA is adding another variation its famous meatball selection — salmon.
The immensely popular food item is getting a fishy update as IKEA announced in a press release that they will be introducing a salmon ball made from salmon and cod.
To really drive home the flavors of the ocean, the warehouse chain will be seasoning the balls with seaweed, as well as lemongrass to capture "the fresh taste of cold Nordic sea," the press release shared.
"For the product development of the salmon balls we looked at the processing of salmon and realized that there is a lot of potential in other parts of this fantastic fish, the smaller pieces that cannot be used as fillets. We worked closely with our suppliers, optimized the process and together created this tasty source of protein with a lower carbon footprint," says Sabrina Anania-Stepanian, product developer IKEA Food Services AB.
The salmon balls got high marks during its limited release. According to IKEA, over 80 percent of restaurant guests that tried the new item had a positive response.
The retailer will continue to roll out the salmon balls in its restaurants. The salmon ball joins the menu of the original Swedish meatball, chicken meatball and the plant-based veggie balls, which were both introduced in 2015.(SD-Agencies)