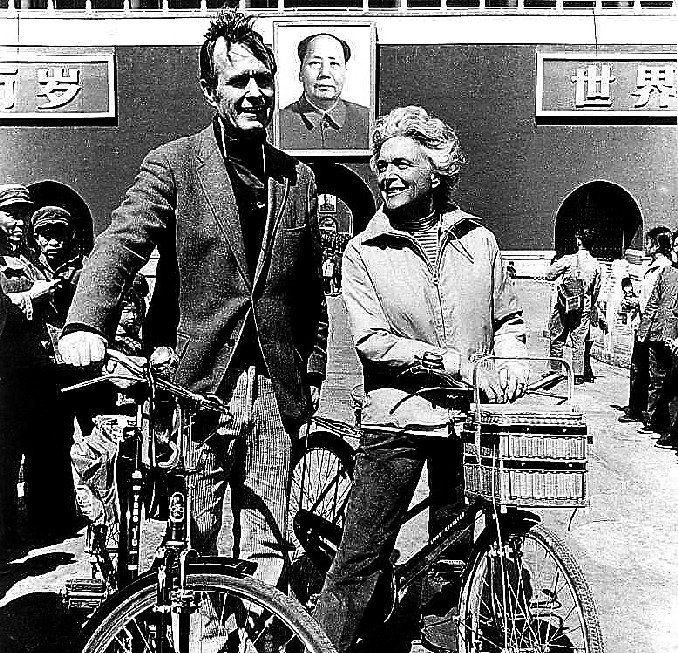 CHINESE President Xi Jinping has praised George H. W. Bush's role in helping to improve China-U.S. relations, in a tribute to the former president of the United States who died Friday at the age of 94.
In comments made during a meeting with U.S. President Donald Trump at the G20 Summit in Argentina, Xi said that he was "greatly saddened" by the late president's passing, describing him as "someone who made important contributions to the China-U.S. friendship and relationship during his lifetime."
Xi expressed his sympathies for the Bush family, and asked Trump to convey a message of condolence.
Bush is best remembered in China for his time in Beijing as the United States' unofficial ambassador to the country in the mid-1970s. It was an experience that would go on to influence his foreign policy decision-making, and help steer U.S.-China relations through several tumultuous decades.
Known in Beijing as the "bicycle-riding envoy" on account of the many hours he spent cycling through the capital's narrow hutong alleyways with his wife Barbara, Bush endeared himself to local residents with his down-to-earth practicality and apparent enthusiasm for Chinese life.
As the United States' chief diplomatic envoy in China during a period before the U.S. had formally opened an official Beijing embassy, Bush met with several key Chinese leaders, including Mao Zedong and Deng Xiaoping, as well as numerous military and diplomatic heads.
In 1972, as U.S. Ambassador to the United Nations, Bush witnessed China resume its U.N. seat and membership on the U.N. Security Council.
Envoy to China
Following U.S. President Richard Nixon's historic visit to Beijing in 1972, Washington established a U.S. liaison office in the Chinese capital with a chief envoy to act as an unofficial ambassador in an attempt to help break the ice.
Beginning in 1974, Bush arrived in the capital aged 50 as the second U.S. envoy to Beijing, during a period in which China had yet to fully open to the outside world.
"He thought the future lay in Asia and the future lay in China," Jeffrey Engel, director of the Center for Presidential History at Southern Methodist University, said of Bush's decision to accept the role in the Chinese capital.
Bush had traveled to Beijing with the intention of meeting "the next generation of China's leaders," according to his diary. But although Bush twice met Mao Zedong, more often than not he found his diplomatic efforts fruitless.
But by the time he left in 1975 to take up the role of CIA director under the Ford administration, Bush had developed a special appreciation for and understanding of the Chinese Government, Orville Schell, director of the Asia's Society's Center on US-China relations, said.
"He did bond with the country," said Schell.
One of Bush's first official trips abroad as president, barely a month after taking office, was to China in February 1989. "Returning to Beijing is a homecoming," he said in an interview with CCTV on the occasion, recalling the year he and his family had lived in the Chinese capital in 1974-1975. He also described the Chinese people as "old friends who, while out of sight, have never, never been out of heart and mind."
'I love the Chinese people'
During one of Bush's dozens of post-presidency visits to China in 2006, Engel, who was traveling with him, said the former U.S. leader's reception upon his arrival in the country was "amazing."
One of Bush's last visits to China was during the Beijing Olympics in 2008, where he told the Washington Post in a rare interview China was an important "friend" and "supporter" of the U.S.
Bush made his feelings on China clear in the foreword to his diaries written in 2007. "I love the Chinese people. One of my dreams for our world is that these two powerful giants will continue working toward a full partnership and friendship that will bring peace and prosperity to people everywhere," Bush said.   (SD-Agencies)