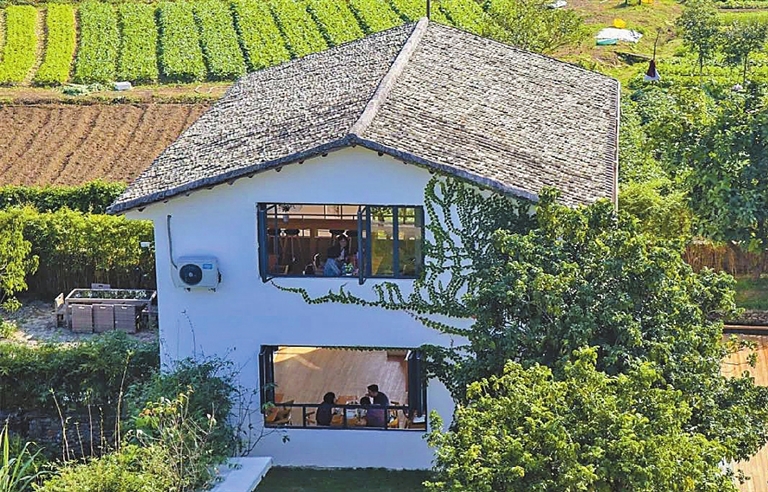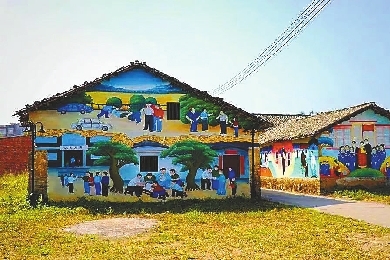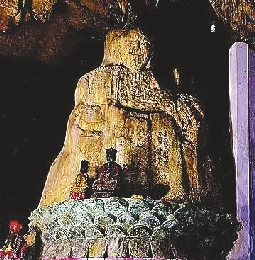 DECEMBER is knocking at the door, however autumn is still lingering on in Guangdong. With a nip in the air, we are here to introduce you to a trip to Longmen suitable for this season, where you can enjoy rural leisure, savor local delicacies, bring back special souvenirs, and take a dip in an amazing hot spring.
Staying at unique inns
When talking about Longmen-style inns, Chinese people always relate their aesthetic to the ones depicted in swordsmen films where swordsmen gathered to fight. Nowadays in Huizhou, Guangdong Province, Longmen inns have been redefined with elements including Hakka construction, Yao ethnic group culture and good views. Tree Courtyard Resort, which is rated a three-star Longmen inn, falls under this category.
Only a stone's throw away from a vast expanse of paddy fields, the resort enjoys a nice view of the golden paddy sea. Rather than an old renovated house, it is newly built and harmoniously embedded into the environment.
The design of its courtyard incorporates native materials, including the tiles and the glass. There are altogether five buildings in the resort complex, namely an office building, reception hall, study room, guest building and a kitchen.
Open the window of the guestroom, and you will see woods and grasslands and take in the fresh air. During the day, you can pick fresh vegetables and fruits in the orchard, or plant a cherry tree in the cherry tree garden while enjoying the company of chirping birds, gurgling water and buzzing bugs. In the evening, you can observe the starry sky from the rooftop.
Not far from the guesthouse stands the Hakka round house encircled by a half-moon-shaped pond. On the right rear side of the round house stands a blockhouse built in the Qing Dynasty (1644-1911).
Add: Tree Courtyard Resort, Dipai Town, Longmen County, Huizhou 惠州市龙门县地派镇爱树乡村度假山居
Longmen farmer paintings
Longmen has nurtured many quality agricultural products including rice, tea and arrowroot. Last year, the top 10 souvenirs in Longmen were selected, including honey, rice cake and plum wine. The number of special local products is so large that you will find it difficult to choose one. However, there is one special artwork that is sure to impress you: rural-inspired paintings by Longmen farmers.
The art of Longmen-style farmer paintings is a wonderful treasure of Chinese modern folk art. It is the only farmer painting style in South China. According to research, Longmen farmer paintings originated in the late Qing Dynasty, came into being in the 1950s and was named in the 1970s. The farmer paintings take on realistic themes from the countryside, including peasants, agriculture, folk festivals, folk culture, myths and legends, a strong work ethic and sweet love.
In the Art Museum of Chinese Farmers, you will learn about the development process of Longmen farmer paintings and appreciate the representative works. At the Longmen Farmer Creation Center, you will witness how painters draw the paintings, and in the Shangdong Village Culture Square, you can see the special folk customs of dancing fire dog and making rice cake presented in the form of farmer paintings.
Apart from rice paper and walls, the farmer paintings are also presented on umbrellas, wood floors, porcelain, furniture and toys.
Add: Art Museum of Chinese Farmers, Sun Nature Hot Spring Town, Longtian Township, Longmen County, Huizhou 惠州市龙门县龙田镇尚天然花海温泉小镇中国龙门农民画博物馆
Farmer Creation Center, 2/F, Culture Center, Longmen County, Huizhou 惠州市龙门县城文化馆二楼农民画创作中心
Praying for fortune
There is a Chinese saying that goes "the carp jumps over the dragon gate," which means "succeed in the civil service examination in old times or have a job promotion." Longmen, literally meaning "dragon gate," is regarded as a treasure land in terms of fengshui and has attracted many tourists to come and pray for fortune on its grounds.
There are three key venues in Longmen that welcome tourists to pray, including Longyan Ancient Temple, Wanshou Temple and Hexiangu Temple. Longyan Ancient Temple, nicknamed "a small heavenly abode," enjoys the view of limestone caverns and has always been a popular temple.
Built in the Ming Dynasty (1368-1644), Wanshou Temple has a large number of monks and is always popular among believers. First built in the late Tang Dynasty (618-907), Hexiangu Temple is said to be the sacred place where Hexiangu, one of the eight immortals in Chinese mythology, became a fairy, as well as a gathering place for the eight immortals.
Add: Longyan Ancient Temple, Chenguang Village, Pingling Town, Longmen County, Huizhou 惠州市龙门县平陵镇晨光村龙岩古寺
Wanshou Temple, Miaoqian Street, Longmen County 惠州市龙门县城庙前街万寿寺
Hexiangu Temple, Hanhe, Yonghan Town, Huizhou 惠州市永汉镇旱河何仙姑庙
When you come to Longmen during this season, do remember to try out the hot spring here. One recommended place is the Linfeng Hot Spring Resort in Maxing Village, Yonghan Town.
(Chen Xiaochun)