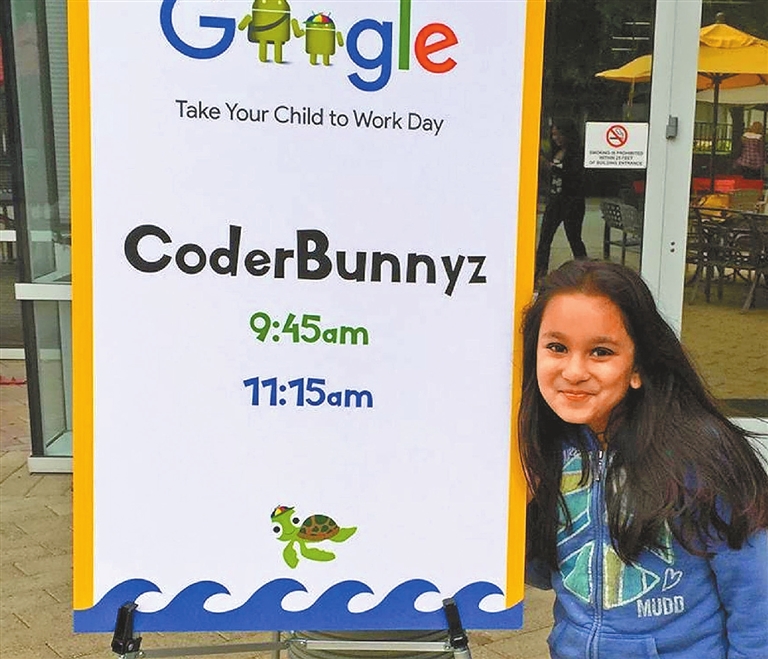 U.S. student Samaira Mehta is a 10-year-old girl growing up in Silicon Valley who has attracted an almost cult-like following because of her work as a programmer.
She's the founder and CEO of CoderBunnyz, a company which has earned national media recognition and landed her speaker roles at nearly a dozen Silicon Valley conferences.
It all started when she was just 8 and created a board game called "CoderBunnyz" to help teach other kids how to code. She'd been coding since she was 6.
After creating the game, Mehta won the US$2,500 second-place prize from Think Tank Learning's Pitchfest in 2016. This caught the attention of some marketeers for Cartoon Network who were looking for inspiring young girls for the show "Powerpuff Girls."
After she was featured on Cartoon Network, things took off from there. Mehta was then featured on some newscasts and started selling her game on Amazon.
"We've sold 1,000 boxes for over US$35,000 and it's only been on the market for one year," the exuberant and adorable Mehta told Business Insider.
It wasn't just happenstance promotion. When she launched CoderBunnyz, she also came up with a killer-marketing plan with the help of her proud father, an Intel engineer who has also worked in Sun Microsystems and Oracle.
She uses the game to conduct coding workshops for school students, where everyone plays the game. And she thinks big.
She launched an initiative called "Yes, 1 Billion Kids Can Code" that allows interested people to donate boxes of the game to schools. She then set up workshops to help kids at those schools learn how to master the game.
At the start of this school year, 106 schools were using the game to teach kids to code, Mehta said.
"In the world there are over 1 billion kids," she said. "There are people who are willing to donate 'CoderBunnyz' boxes to schools, and to people in need all over the world, who want to learn coding."
Sales of the game have gone so well that Mehta has just launched a sequel: a game for kids that teaches them how to code using artificial intelligence (AI).
The new game is called "CoderMindz" and she's billing it as the first ever AI board game.
Like "CoderBunnyz," kids will learn basic AI principals — concepts like training an AI model, inference and adaptive learning. Eventually, they can use those skills to build robots.(SD-Agencies)