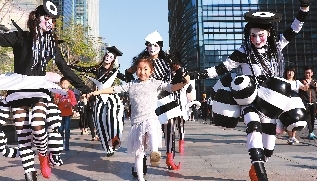 Chen Xiaochun
654789759@qq.com
AS an important wrap-up event of the grand annual Shenzhen Fringe Festival, the Fringe Parade was held on Shenzhen Bay Street on Dec. 2, presenting an art carnival to citizens with a total of 400 artists of 20 groups from all over the world.
Enjoying a time-honored history of 70 years, the Fringe Festival highlights free creation. Since the festival came to Shenzhen in 2010, it has been turned into a creative space beyond hierarchy and borders.
Shenzhen Fringe Festival sets up its main stage on public streets and squares. It blends arts into people's daily lives. With the concept of "Art Everywhere, Stage Everywhere," the festival advocates universal participation and integrates urban life in varied forms.
This year, the audience consisted of not only onlookers but also participants. During the parade, they casted votes with their phones to choose the best popularity award, best visual award, best creativity award and best performing award winners.
The Exotic Sound Band specializes in the research and promotion of Native American music and the music of other regions. They put on traditional costumes and the feathered crest of Native Americans and performed with a pan flute, demonstrating the awe Native Americans had towards nature.
Living statues are another highlight of the parade. Yuval Cohen and Emilia Cohen from Israel acted as two characters knitted by wool from head to toe in the shape of an old and lovely couple. Ayelen Molina's living statue work "The Yellow Girl" showed a girl painted in yellow standing on a bicycle.
JOHNman from Germany, an old friend of Shenzhen Fringe Festival, premiered a new character, an Airman living statue, at the parade. Frans Vogels from the Netherlands, wearing a suit of red and blue and a black top hat, presented "Snapshot." When he pressed the button of his camera, the two wickets opened and a lovely cuckoo appeared with a flash of light.
Apart from exotic culture, Fringe also offered a window for traditional Chinese culture. The Zi Gui Han Costume Association showcased the beauty of Han Chinese costumes to citizens. In traditional Hakka costumes, the Nanshui Hakka Folk Song Team passed on to the audience their love for Hakka folk songs. In addition, Mango. G Samba, Little Comma Theater and Vivo Music Club all brought their share of art.