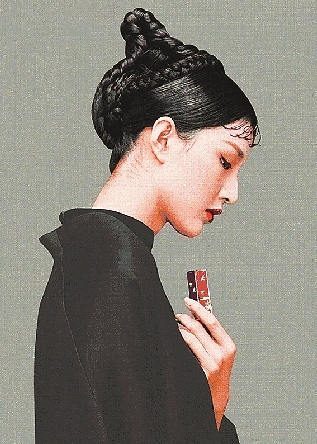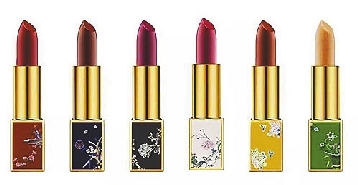 IF you think the Palace Museum is a place only for traditional Chinese culture, you're wrong.
On Dec. 9, the Palace Museum released its new series of products — a limited edition lipstick collection in six colors — from Palace Museum Cultural Creativity, the museum store, on its public account on WeChat, provoking excitement among netizens and fashionistas.
The bad news is: If you order now, you will have to wait till after March for delivery, since the new products are selling like hot cakes.
The six colors include "Langyao glaze red," "bean paste red," "tourmaline purple," "rose-purple," "mermaid pink," and "maple red," which are all classic colors in the sense of Asian beauty.
The packaging of the lipsticks was inspired by patterns from traditional Chinese porcelain and embroideries. Featuring fairy cranes, lucky deer, butterflies and bees, and embellished with flowers like hydrangea and chrysanthemum, the patterns on the packaging shows a refined traditional Chinese beauty. Besides, by the use of 3-D printing, the packaging also presents the texture of embroidery, which makes it nearly a delicate art piece.
The lipsticks have hyaluronic acid as an ingredient, which not only moisturizes the lips in winter but also helps relieve wrinkles on them. Each tube of lipstick sells for 199 yuan (US$28.9).
Just one day after the release of the lipstick, the store has also released a series of facial masks.
The lipstick soon went viral online. Many people say "Just tell me where to buy it," "I really want one," or "It's the Chinese Tom Ford!"
The museum has indicated its intention to step into cosmetics for some time, generating lots of anticipation among fans of traditional culture.
Samples were shown at the eighth International Exposition of Museums and Relevant Products in Fuzhou, capital of Fujian Province, in November. Still, the expo, mostly for museum industry professionals, did not create too much of a buzz. While cosmetics opinion leaders online have shown great interest in the new product, feedback will require some patience.
On Taobao.com, another major shopping platform, the Palace Museum Taobao store released its own series of cosmetics, including eye shadow and rouge, Wednesday.
The decorations of the cosmetics' cases were inspired by furniture, paintings and patterns from different cultural relics at the museum.
With a history of nearly 600 years, the Palace Museum has presented more modern characteristics in recent years, including releasing cultural and creative products to cater to the young.
(SD-Agencies)