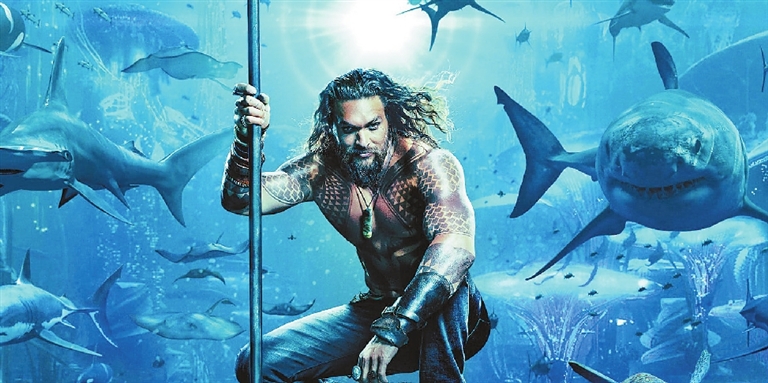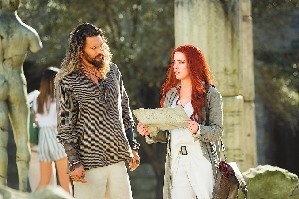 Starring: Jason Momoa, Amber Heard, Willem Dafoe, Patrick Wilson, Dolph Lundgren, Yahya Abdul-Mateen II, Nicole Kidman Director: James Wan
A SUPERHERO movie with the scope of an epic but the spirit of a mischievous boy, "Aquaman" is a goofy, uneven adventure that proudly sticks to its loopy vision even if it doesn't quite work. Much like its smirking star Jason Momoa, this latest DC installment flexes a muscular charm, and the film never stops throwing widescreen spectacles, corny jokes and a whole miniseries' worth of family melodrama at the audience over the course of nearly two-and-a-half hours. But its mix of tones fails to get along swimmingly.
Warner Bros. has already released the film in China, earning a healthy US$92.3m in its opening weekend. ("Aquaman" hit the U.K. on Wednesday and will be screened in the States on Saturday.) After the relative commercial disappointment of "Justice League" (US$658m worldwide), which featured Aquaman, the studio hopes this standalone movie can revive some of the franchise's mojo while making the King of Atlantis a viable theatrical property in his own right.
Momoa is Arthur Curry, whose father is human and whose mother Atlanna (Nicole Kidman), Queen of Atlantis is feared dead after she was forced to return to her kingdom during his youth. Although shunned by Atlanteans because of his human lineage, Arthur is visited by Mera (Amber Heard), princess of the kingdom of Xebel, who requests his help to find an all-powerful trident that's hidden somewhere on the Earth's surface in order to end the reign of his ruthlessly ambitious, warmongering half-brother King Orm (Patrick Wilson). Arthur doesn't want to get involved, but he recognizes only he can retrieve this trident and restore peace.
Director James Wan ("The Conjuring," "Furious 7") has shaped Aquaman as a comic-book extravaganza that's equal parts Indiana Jones and Shakespearian drama as our heroes seek out ancient clues pointing to the whereabouts of the trident while, simultaneously, a battle for the crown wages underwater. It's a film bursting with incidents, characters and twists, and Wan and his production team have fun imagining the myriad of different realms, both on land and sea, where Arthur and Mera must travel.
That boisterousness extends to the film's generally light-hearted demeanor. Veteran actors such as Kidman and Wilson — not to mention Willem Dafoe as a wise mentor to young Arthur — split the difference between camp and sincerity, playing their cardboard characters with such earnestness that, amidst the CG overkill, it's hard to know how serious to take their emoting.
To a degree, these loony tendencies are a relief. As opposed to the lumbering solemnity of Zack Snyder's "Batman v Superman," "Aquaman" ports a breezy, escapist feel more akin to the bygone days of Saturday-matinee serials — albeit one that's invested in the world-building minutiae of different aquatic kingdoms and their complicated rivalries. The movie's tongue-in-cheek tone is further punctuated by several self-mocking slow-motion shots of our protagonist emerging from the water like an ancient god.
But while Wan's film works hard to be robustly, shamelessly entertaining, it often feels like a hybrid of other, better movies. Gladiatorial scenes and an unsophisticated love story sit alongside bravura action set pieces, familiar palace intrigue and the occasional horror sequence. And on top of all of that is Arthur's conventional hero's journey, as he makes peace with the grand destiny awaiting him.
Momoa is a man's-man Aquaman, who's neither duly noble like the Man of Steel or tormented like the Dark Knight. With his burly physique and intimidating snarl, this bearded, long-haired Adonis is just as happy to pound some beers as he is saving the day. His good-natured, bro-friendly irreverence helps lighten the film's mood, making the soaring spectacle feel giddy rather than self-important.
Unfortunately, the movie's story is less appealing, especially as Arthur and Mera go on their quest and develop a flirtatiously contentious rapport. They're predictable opposites — she doesn't understand the human world, making this film a literal fish-out-of-water tale — and while the actors have chemistry, the subpar wisecracks and pedestrian plotting do them no favors.
To be sure, after so many sad-faced DC superhero films, there's a kick to the sheer pleasure in "Aquaman" in playing with the iconography of comic-book cinema's larger-than-life heroes and supersized fight scenes. But in some ways, shaking up the formula only reveals how much of the formula still remains. "Aquaman" is over-the-top, but it can't overcome that limitation.
The movie is now being screened in Shenzhen.
(SD-Agencies)