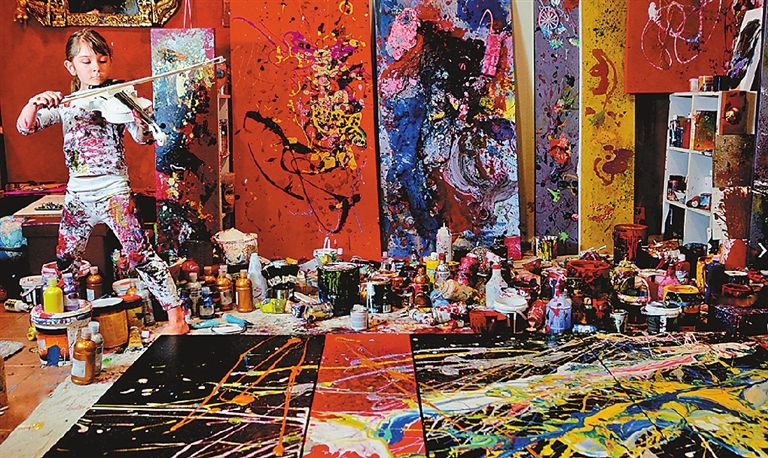 可能是下一个毕加索,天才小画家埃丽塔·安德鲁和她的异想世界
At the Art Basel, one of the world's most popular international annual art fairs, that ran from December 6 to 9 at Miami Beach in the United States, the first WONDER Kids' Basel Exhibit and Interactive Installation opened to a packed crowd of 450 people and kid artists who rival their adult peers.
Australian abstract artist Aelita Andre was the star of the show.
At just 4 years old, Andre was dubbed a childhood genius by art critics and media around the world. Now at 11 years old, she's continuing to reshape the industry by merging sound with nature, art, and rapture.
The young artist is now earning up to US$10,000-25,000 for each of her paintings. She has also sold her finger painting masterpieces for up to US$50,000.
The young artist has featured her work in more than 25 international exhibitions. And at the Russian Academy of Fine Arts, Andre became the youngest artist to feature her work in a solo museum in 2016, according to ABC.
"I was 9 months old when I painted my first work and I don't remember how I did it," says the young artist.
She might not remember her first time painting, but her parents certainly do. Australian Michael Andre and Russian Nikka Kalashnikova, both artists, noticed their child's desire to play around in their studio mixing colors.
The decision was made to set up a room where the young toddler was free to do whatever she wanted. Andre was still just 9 months old.
Her first solo exhibition happened almost unbeknownst to the Melbourne gallery owner who put it on.
Her parents brought Andre's works to BSG gallery but didn't reveal the age of the artist, saying only that it was a Russian female painter.
The curator loved the unabashed color mix. Back then Andre was just 2-year-old.
Later she would be described as "the youngest professional artist, painting prodigy, genius and next Jackson Pollock" by world media outlets such as the BBC and The New York Times as her artworks traveled across the globe and exhibitions took place in New York, Hong Kong, London, and St. Petersburg.
(SD-Agencies)