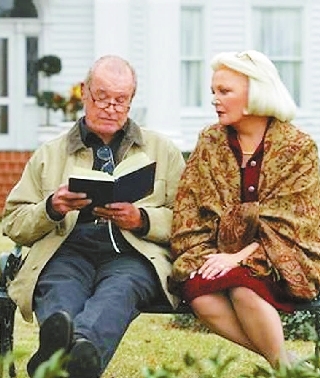 Xiao Tong, Class 7, Senior 2, Shenzhen Foreign Languages School Instructed by Yang Suning
深圳外国语学校高二(7)班 肖桐 指导教师:杨素宁
"The Notebook" tells a romantic story about love and memory.
At the beginning of the book, an old man comes to read a book for an old woman; they don't seem to know each other, just two lonely people living in the nursing home. Allie was a lovely beautiful girl who was born into a rich family. And Noah is a handsome boy working as a blue-collar worker. They met one summer and fell madly in love with each other.
However, their love is not blessed by Allie's family. When the summer is over, Allie has to leave the town for university and her mother hides all the letters from Noah. Then World War II breaks out, and Noah joins the army and loses track of Allie.
Seven years later, Allie is engaged to a promising officer, while Noah finally buys their dream house and rebuilds it in the way Allie wishes.
Somehow, they meet each other again, clearing all the misunderstanding and regaining their passion. Then Allie ends her engagement and lives happily with Noah. After many years, because of suffering from Alzheimers, Allie loses her memory. So Noah comes to read their love story for Allie every day, and finally succeeds in restoring her memory just for a few minutes. Owing to their true love, nothing can take them apart, not even death.
While reading this book, I was so impressed by its beautiful sentences and the warmth between their talks. It's true that this love seldom happens in our life, but tears still welled up as I saw their struggles, fears, hesitation and love. I believe it's their courage and faith that eternalizes this love.
Allie is brave enough to say goodbye to her promising future with a man who is puissant and able to give her wealth and a comfortable life. And Noah always insists on constructing Allie's dream house, just for the promise they made before, even though there is not any information about Allie. Beside their own endeavor, Allie's mother also plays an important part in it. At first, she is too concerned about her daughter's life, so she tries every means to separate them. However, she is also an agreeable mother. When she finally realizes that her daughter's happiness is above everything else, she encourages her to follow her heart and gives Noah's letters to her.
It's just as a Chinese saying goes: "To hold your hand, to grow old with you." It's not easy to find the right person to spend your whole life with. How many couples are defeated by time, distance, money or other things? But they do. After seven years, they still have the feeling for each other. I guess it is the power of love that glues them together forever.