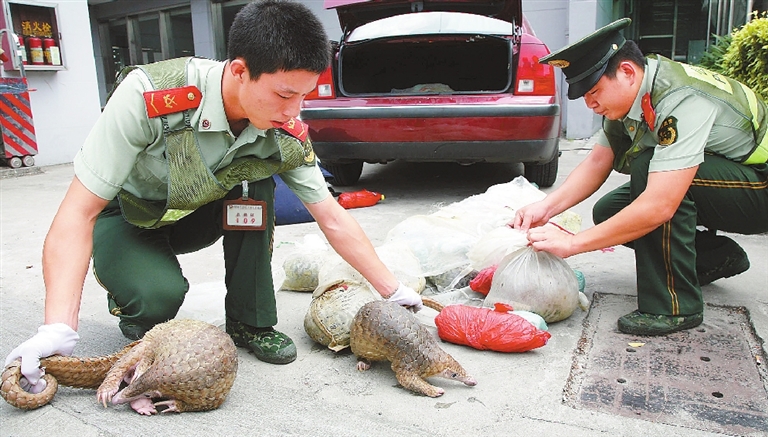 CHEN SHENGYOU once had great skills when it came to poaching pangolin.
A glimpse in a pangolin's cave, and Chen, a 73-year-old farmer from Central China's Hunan Province, could identify the animal's gender, size and age.
However, Chen's unique skills are, thankfully, sure to be lost in the future as China has strengthened protection of wild animals in recent years.
Instead of worrying, Chen feels gratified. "We used to hunt pangolin to make a living. But now, we lead such a good life that we do not hunt pangolin but protect the increasingly rare animal," he said.
Hailed as "forests guards," pangolins prey on ants and termites, which protects forests, dykes and dams.
Pangolins are the world's most heavily trafficked mammal. They are under second-class state protection in China and the highest level of protection under the Convention on International Trade in Endangered Species of Wild Fauna and Flora, which prohibits international trade of all eight pangolin species.
Pangolins are often involved in illegal trading because their meat is considered a delicacy and their scales believed to have medicinal qualities.
One million pangolins were illegally sold worldwide over the past 10 years. The number of pangolins involved in illegal trading has surpassed that of elephants and rhinoceros, leaving the species heavily endangered.
China has strengthened protection of pangolins in recent years. A series of campaigns against pangolin trafficking have been launched by Chinese customs and public security departments. A total of 209 pangolin smuggling cases were busted from 2007 to 2016. However, this failed to put an end to illegal trading.
In early November, police in Central China's Hunan Province detained 129 suspects involved in pangolin trafficking. A total of 216 pangolins and 66 kg of pangolin scales were confiscated.
In late September, customs staff in Guangzhou busted smugglers in a case involving 7.26 tons of pangolin scales.
Chinese local governments have rolled out a series of regulations and rules to help protect the animals.
Central China's Hunan Province published a statement to ban wild animal poaching across the province while East China's Anhui Province has launched regular surveys to establish comprehensive records of wild animals and their habitats.
Some NGOs have also participated in the pangolin protection campaign. Volunteers from these NGOs not only popularize knowledge about pangolins, but offer training to assist investigation into smuggling. They also rescue injured pangolins and require popular network platforms to remove video clips and photos of people eating pangolins.
Zhou Jinfeng, secretary general of China Biodiversity Conservation and Green Development Foundation, called for the establishment of a data platform for pangolin protection, which is used to record pangolins and pangolin products seized by customs, and collect information on pangolin numbers.
Thanks to the protective efforts, the pangolins have been witnessed again in the wild.
Zhang Liang, a forest ranger from Shexian County in East China's Anhui Province, said that the rarely seen pangolins had been spotted in the wild two times this year as the local ecological environment had significantly improved.
However, Li Li, director of the wildlife rescue and breeding center of Hunan Province, pointed out that the rescue work and artificial reproduction of pangolins still faced challenges.
(Xinhua)