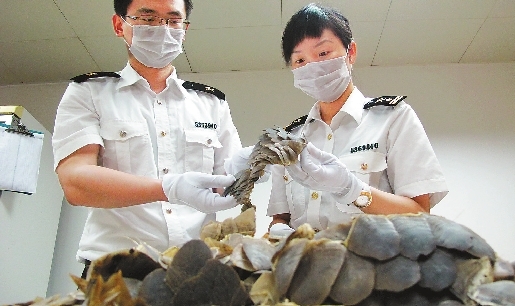 A PRIMARY school science textbook and a related reference book for teachers will no longer mention pangolins as being a pharmaceutical component, after a group questioned the propagation of the belief's impact on animal conservation efforts.
The China Biodiversity Conservation and Green Development Foundation drew attention to the question in a letter to the book's distributor in August 2018, and the publisher subsequently responded with its own letter to the foundation saying the passages would be removed.
The science book for the first semester of Grade 6 published by Educational Science Publishing House mentioned pangolin parts as an effective ingredient in traditional Chinese medicine, the publishing house noted in its reply to the foundation.
"It is inappropriate to list the species as such because pangolins are under national protection," it said. "After careful checks, we immediately made changes to the textbook and to a related teachers' reference book."
It promised that the information will not appear in books for the upcoming autumn semester.
The foundation sent a letter earlier through its lawyer to Guangdong Xinhua Publishing and Distribution Group, the sole distributor for the textbook in Guangdong Province, after volunteer proofreaders spotted the content in a reference book for teachers.
In the book's section on the value of biodiversity, the word pangolin appears and is indicated as a medicinal component in a diagram.
In the letter to the distributor, which was passed to the publisher, the foundation noted that pangolins are protected animals in China, and that their capture, killing and consumption are all prohibited.
Pangolins are on the brink of extinction worldwide, according to experts.
Because pangolins are falsely believed to have medicinal benefits, they are often consumed outright in China — or used in medicines — the letter said.
"With the progress of society, people's awareness of animal protection has increased. Textbook content that runs against animal protection efforts needs to be adjusted by the publisher," said Xiong Bingqi, deputy director of the 21st Century Education Research Institute.
"Textbook compilers need to know the latest information in society and update content in a timely manner. Education experts have professional knowledge in their fields but don't have sufficient knowledge in other fields, which leads to defects in textbooks," Xiong said.
He suggested that animal protection or charity groups be consulted when compiling animal-related sections of textbooks in the future.
(China Daily)