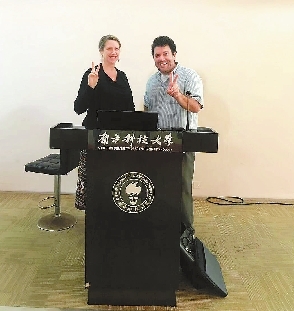 Matthew Jellick
Last week, I had the opportunity to host a former professor of mine, Dr. Gena Rhoades, whom I invited to give a series of workshops at my university here in Shenzhen. Presenting for both teachers and students alike, her workshops geared toward pedagogy included "Student Engagement: Motivating the Unmotivated," while the presentations that focused on student needs included "Preparing for the Future." Practical yet useful, her approach to teaching and learning strategies reminded us all that attention should be paid to sustainable practices that value the individual, not just the result.
I met Dr. Rhoades during my master's program at the University of Southern California (USC). I remember her teaching approach then, appreciating us for who we were as individuals, not just as students. Years later, and in my own classrooms, I too try to emulate this method, giving credence to my student's background, and in turn, trying to incorporate those complex elements into my curriculum. Too often, I am afraid, students can be relegated to a number on a data sheet, grouped with others to whom they have no correlation other than similar standardized test scores. Yet, we as individuals are unique and bring with us varying circumstances, which make up not only our being but our reasoning too. The boy in the back of the class majoring in Electrical Engineering is different from the girl on the other side of the room who wants to be an international choreographer but is getting a degree from a STEM university. We need to celebrate these differences, not mitigate them.
At Southern University of Science and Technology (SUSTech), I work in the Center for Language Education (CLE), where we try to invite guests like Dr. Rhoades to come and share their expertise with us and, by extension, the entire university. With the aim of continuously learning about new approaches, and in turn utilizing them in the classroom, the teachers in our center understand the value of professional development and the positive implications it has on not only ourselves but our students as well. From Dr. Rhoades' perspective, she too gets to learn about the complexities we face, both inside as well as outside the classroom, and how we manage them by trying to turn them into learning opportunities.
I am grateful for my university's support in bringing Dr. Rhoades to Shenzhen, and similarly to my former professor for taking the journey to come here and help bridge the cultural and educational divide that exists irrespective of location. The world is becoming much smaller, and the ability to share ideas as they pertain to English-language learning has, perhaps, never been so important. However, for all of the discussion about pedagogical approaches, it is of the utmost importance that we never loose sight of the students and their needs. For it is they who will lead us into the future, and it is in our best interest to provide them with the necessary tools for that journey.