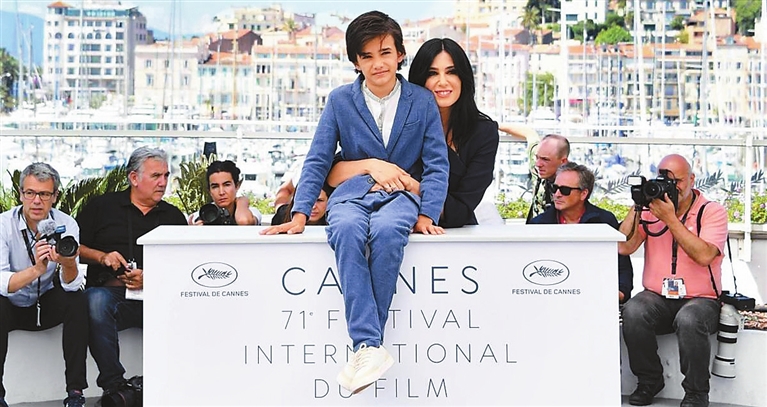 赞恩•阿勒费亚:被电影改写人生的叙利亚小难民
At 12, Syrian refugee Zain Al Rafeaa barely knew how to write his name. He was discovered in the streets of Beirut by Lebanese film director Nadine Labaki, who cast him to star in her new film "Capernaum." Today, Al Rafeaa and his family have been resettled in Norway, where they live in a house overseeing the sea and Al Rafeaa plays with reindeer in the forest.
Until five months ago, Al Rafeaa's life shared similarities to the character he plays in "Capernaum," the story of an undocumented Lebanese boy fighting to survive poverty and marginalization while helping other displaced people living in the slums of Beirut. He was living below the poverty line, like many other Syrian refugees and Lebanese host communities.
The film recently has been selected as Lebanon's entry for Best Foreign Language Film at the 2019 Academy Awards and received the Jury Prize at the Cannes Film Festival.
Shortly after coming back from Cannes, the Al Rafeaa family received an official letter from UNHCR, the UN Refugee Agency, informing them that they were going to be resettled in Norway, a process that started in 2016. They moved to the Nordic country in August 2018.
Al Rafeaa and his family arrived in Lebanon in 2012, after fleeing war in their home town of Daraa in southern Syria. Living in one of the poorest neighborhoods of Beirut, Al Rafeaa could not attend school and was often exposed to drugs and violence.
Lebanon — which has a population of 4 million people — is currently hosting 1 million Syrian refugees. One of the biggest challenge the city faces is the increasing number of children on the streets, both Lebanese and Syrian.
"They are living parallel lives on the margins of our societies, they become invisible to us," Labaki said about the inspiration to make "Capernaum." "What happens in their heads when they feel so invisible? How does it feel to be completely invisible in the eyes of society? I wanted to understand."
Labaki worked with non-professional actors, four of whom were refugees. They filmed for over six months so that they could adapt to acting on camera.
In his introduction, actor and UNHCR Goodwill Ambassador Ben Stiller praised Al Rafeaa's performance: "He is really one of the best actors I've ever seen on film. It's just an amazing performance."
"It's not a light film," he added. "But it illuminates this human story that is going on in the world right now."
Labaki, like many others in the theater, wished there could be more "happy new beginnings" like Al Rafeaa's. (SD-Agencies)