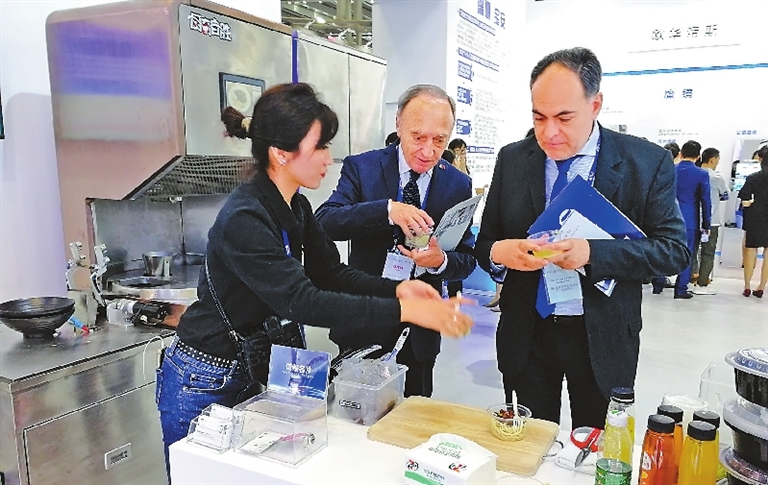 KNEADING dough in a sweltering room with smudges of flour on your apron will definitely become a thing of past. Nowadays, noodles, once a delicacy elaborately made by hand, can be cooked up within a minute by a fully-automated machine.
Established in 2011, Allove, an artificial intelligence (AI) robotic firm based in Bao'an District, Shenzhen, developed a robot chef that can cook up authentic noodles, and now a new business model facilitating the transformation of the catering industry is underway.
Making its debut at the 19th China Hi-Tech Fair in 2018, robot chef "Noodle Master" is sending a gospel to busy city dwellers who have spent a drawn-out day in the office and end up eating a bowl of sticky takeout noodles.
In the smart restaurant designed by Allove, customers can customize noodles in terms of chewiness while placing an order, and the robot will thereafter control the temperature of water, the amount of raw noodles, and the cooking time to satisfy the requirements.
Restaurant owners can control the robot remotely to process the order in time, which greatly improves the efficiency of food preparation.
According to Qian Xiaoqin, president of Allove, the traditional catering industry is now suffering from the high cost of labor and ingredients, high energy consumption, and low profit margins. With the help of AI and robotic technology, the dilemma has started to reverse.
A restaurant with robot chefs at its center also has three "highs" and one "low," namely, a high level of intelligence making it less dependent on employers, high-quality noodles with great chewiness, high cooking efficiency, and a low cost of labor and ingredients, Qian said.
As a northerner feeding on noodles, Qian started her business with the good will of accommodating traditional Chinese cookery to the fast-paced life-style of big cities. She pictured a blueprint of adapting cutting-edge technologies such as AI to noodle cookery in response the trend of informatization in the modern catering industry.
After eight years' development, Allove has opened two subsidiaries with different focuses. One subsidiary has pocketed thirty-odd intellectual properties and a dozen patents in robotic technology, laying a solid foundation for the creation of robot chefs, while the other one incubates a chain service package combining cookery, big data and Internet of Things (IoT), which facilitates the transitions of the catering industry towards a new business model with information technology playing the leading role.
Qian said that Bao'an is a hotbed of innovative startups with abundant providers, complete infrastructure and preferential policies. (Wang Haolan)