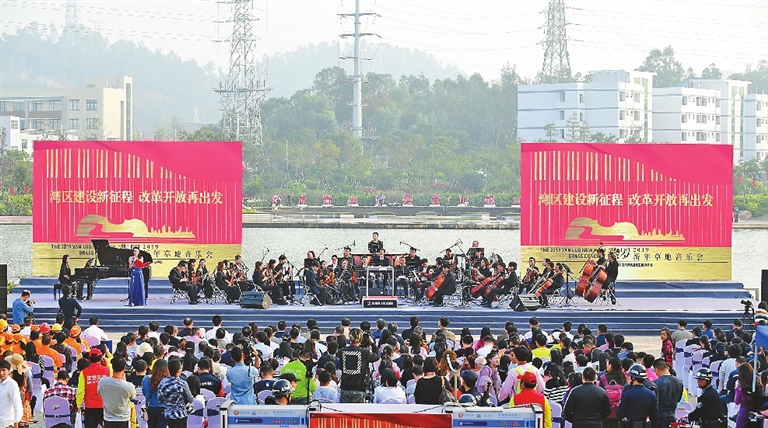 A NEW Year glade concert was held in celebration of the 2nd anniversary of Yanluo Subdistrict at Fitness Park on Jan. 12, unfolding a spectacle with a history stretching back to the days of revolution and ahead to extolling reform and opening up.
The concert was hosted by the Working Committee of the CPC Yanluo Subdistrict Office and co-staged by Shenzhen Philharmonic Orchestra, Bao'an Recitation Artist Association and others.
Major sites in the subdistrict were set as the venue of the glade concert as a commemoration of revolutionary martyrs. The concert consisted of three episodes, each of which echoed the unceasing progress made by the subdistrict in terms of economy, infrastructure and livelihood.
"Bao'an 1928," known as the theme song of a short film celebrating the 90th anniversary of the 1st CPC congress in Bao'an, was chosen as the prelude to the concert.
A string of iconic musical pieces and literary works, including "The East is Red" and "The Red Star Shines Me to Fight," presented iconic scenes of revolutionary times to the audience in the first episode.
The latter two episodes portrayed the development of Bao'an over 40 years and looked forward to a promising future. Popular musical pieces like "My Motherland," "On the Promising Field" and "The Beautiful Era" were performed to hail the achievements of reform and opening up.
According to Gao Jun, Yanluo's Party chief, the subdistrict is now reaping the harvest of economic development and environmental improvement. After years of purification, the Maozhou River, which was once filled with murky water that gave off a pungent smell, has become a new place for recreation surrounded by picturesque wetlands.
By leveraging the great opportunities in the Guangdong-Hong Kong-Macao Greater Bay Area, the subdistrict will forge firmly toward becoming a portal of the city featuring state-of-the-art technologies and beautiful scenery, Gao said.(Wang Haolan)