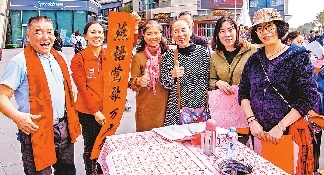 WITH the Spring Festival around the corner, joyous vibes pervade the town. Heart-warming regards were sent to residents in the subdistricts across Bao'an to welcome the Lunar New Year.
Residents, especially the elderly, volunteers and sanitation workers, received care visits from the communities.
On Jan. 9, Gao Weiguang, Party secretary of the Work Committee of Xin-qiao Subdistrict, led a team comprising newly elected CPC representatives, the district's lawmakers and the political advisers to give gifts to volunteers stationed at an anti-drug U-station in Shuxiang Park and inspect the development of volunteer work.
Some 600 sanitation workers in Songgang Subdistrict were invited to a dinner organized by charity organization Shenzhen Lions Club. Fuyong Chamber of Commerce, Fuhai Chamber of Commerce and Fushang Foundation held a series of charity events to give funds and necessities to the needy, empty nesters and retired officials in Fuyong Subdistrict. Kindergarten students in Shajing District gave heart-warming performances for the elderly in the senior homes. Care visits were also paid to the needy and elderly Party members in Fenghuang Subdistrict.
In celebration of the upcoming Spring Festival, Haiwang Subdistrict invited calligraphers to write couplets for the residents, and children in Haihua Subdistrict learned to cook Laba porridge.
(Wang Haolan)