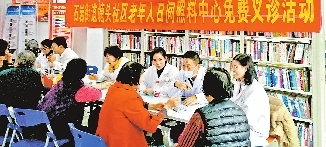 A DAY care center for the elderly was opened in Tangtou Community in Shiyan Subdistrict, Bao'an District, on the afternoon of Jan. 8, with 85 senior residents from communities across Shiyan attending the opening ceremony.
Covering an area of 300 square meters in Tangtou New Village, the senior day care center consists of 10 sections with different functions, including a reading room, a physical therapy room, an entertainment room, a psychological consultation room and a dining hall, according to the Bao'an Daily. The center offers day care, medical care and other services for senior residents.
After the opening ceremony, the senior residents visited the day care center and the center's staff briefed the seniors on the services available there and explained how to use the equipment in the center.
A medical consultation session was held in the center's multifunctional hall, offering free medical services to the senior residents present in the center.
According to a person in charge of senior affairs in Shiyan Subdistrict, the opening of the day care center offers a good place for senior residents to spend the day for both leisure and medical care.
The person said the center will play an important role in the subdistrict's senior care system, and the mode is expected to be promoted in other subdistricts in the district. (SD News)