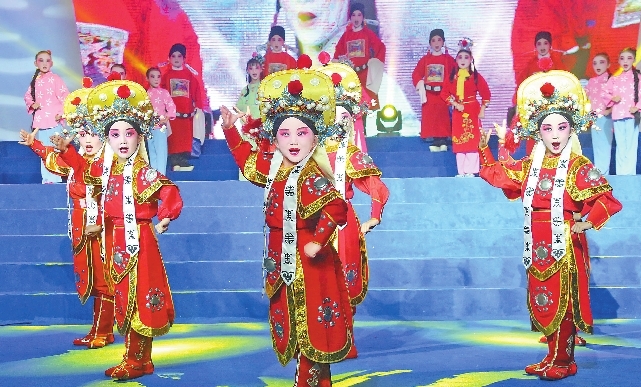 OVER 1,000 children in Bao'an District danced merrily into the New Year at the 2019 Children's Spring Festival Gala at the stadium of the Shenzhen Arcadia Grammar School on Jan.6. The gala is also a part of the Bao'an District Children's Culture Festival.
Under the main theme "spring blossoms," the gala boiled Chinese culture and spirit down to four episodes through performances of song, dance, Beijing opera, martial arts, crosstalk and recitation.
Traditional culture was the highlight of the gala, including a folk music ensemble adapted from the pop song "Descendants of the Dragon" and a medley of Chinese operas demonstrating the cultural heritage passed on in the district.
The gala also saw a lively crosstalk titled "Doggy Friends," biding a farewell to the Year of the Dog, and a catwalk show presented by a young model showcasing goodwill towards the world.
In the poem reciting session, children in the district hailed the prosperity of the country and foresaw a better future with fervent passion.
Seen as the largest social welfare event oriented towards children, the Bao'an District Children's Festival and the Spring Festival Gala is the third of its kind hosted by the Bao'an Media Center of Shenzhen Media Group. After two months of mass auditions, 28 out of 300 performances were presented onstage.
(Wang Haolan)